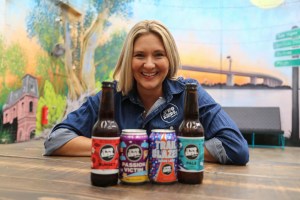 Two Birds Brewing's Danielle Allen has been named as a Victorian state finalist in the Telstra Business Women's Awards.
The Awards, which have been a supporter and promoter of women in business for almost 25 years, recognise women doing great things in small, medium and large businesses across the country.
"My business partner Jayne Lewis and I have worked really hard for seven years to stand tall in the beer industry, not only as women, but as champions of good beer," says Allen. "I'm blown away to have made it to the finals and for that hard work to have been recognised by the business community at large."
The nomination is timely, with Two Birds Brewing, Australia's first female-owned brewery, announcing the release of a beer in honour of International Women's Day on March 8.
Warrior Woman is an IPA featuring Warrior and Topaz hops, designed to represent the strength of women, coupled with a delicate addition of fresh guava. The keg-only release will also feature a special collector's edition decal for each venue, accented with distinctive golden wings. It was brewing specifically in honour of women.
"It came out of a whole team discussion, which is a perfect representation of what International
Women's Day is all about," says Jayne Lewis, Two Birds' brewer. "It's our way of supporting and being proud of all women, especially those who have helped carve the way for others."
The Telstra Business Women's Awards event will be held on 14 March, where the winners will be announced.