Four Points by Sheraton is embarking on a global tour to discover the world's best brews, which will then be tapped at its venues.
The tour kicked off at the Four Points Manhattan Midtown West on International Beer Day and will wrap at the Four Points Barcelona Diagonal during Oktoberfest.
The Four Points Best Brews Around the World tour sees two local craft breweries go head to head to claim the title of Best Brew and be put on tap at the venue. Last night it was Four Points by Sheraton Melbourne Docklands' turn, and local breweries Mountain Goat and Two Birds Brewing went up against each other.
Each brewery chose three of their core beers to put up in front of the judges, which consisted of media, influential beer experts, the hotel's beer expert, hotel staff and guests.
Mountain Goat showcased its Steam Ale, Pale Ale and Hightail Ale, while Two Birds showed their Pale Ale, Taco Beer and the Double Sunset Ale.
But it was the Mountain Goat Pale Ale that came out on top and will be tapped at Four Point Melbourne Docklands from today, but the Two Birds Taco Beer was a close runner up.
Nathan Seamons, the National Sales Manager from Mountain Goat was in attendance and accepted the trophy, saying that the win was "actually quite a bit of a shock".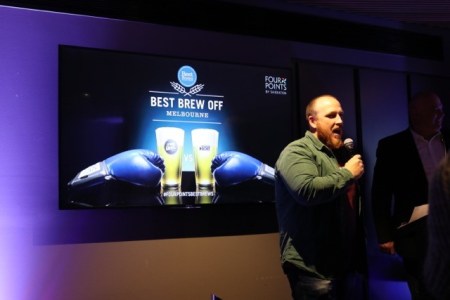 "That beer won the Best Beer in Australia in the New World category at the AIBA Awards and is now undefeated, but we actually won it for draft and not pack, so it's quite interesting that we won it with pack tonight.
"The thing about pale ale is that we have a very similar story to Two Birds in that we didn't start out with a pale ale, ours is very new, it turns two in November.
"The pale ale market was saturated in Australia and it still is, but we created one because that category in Australia is about 52 per cent of all beer sales in craft so we realised that we might have been missing out on a large percentage or a small percentage depending on how you want to look at it, because we didn't have a pale ale.
"So we released a pale ale and we told everybody how good it is for two years and nobody listened, and then we won an award at the AIBA and now we can't keep up with production. We're now doing triple brews every day for the next two weeks of pale ale to keep up, and the product will be our second biggest product by the start of December this year.
"So it's gaining massive momentum, and as I say, it's a massive shock, and thank you all for enjoying it.
The Mountain Goat Pale Ale is now available Australia wide through all good beer stores and will be popping up on tap in every state.
"There's a massive push on this product at the moment and venues are loving it around Australia," said Seamons.