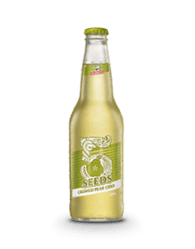 Winter is certainly the new season for the rapidly expanding cider category, with Pear Ciders set to give their apple-based cousins a run for their money.
Tooheys' range of ciders is following the trend with 5 Seed Crushed Pear soon to hit shelves around the country. The cider, made with Packham pear juice, is compared to white wine with a delicate aroma and crisp taste.
5 Seeds, launched in 2007, is the second largest cider brand in Australia and Lion Cider Marketing Manager Andy Disley believes that the new launch will be a hit with drinkers.
"The unique quirkiness of 5 Seeds certainly appeals to the younger cider drinker," he says. "Also with Pear Cider growing ahead of the category and up 35 per cent in volume, we are very excited about the direction we are taking with this new flavour extension."
The new 5 Seeds Crushed pear will be available country-wide.