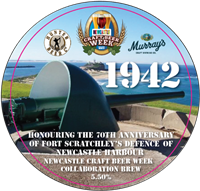 The 1942 Collaboration Brew between Murray's and Hunter Beer Co, to mark the launch ofNewcastle Craft Beer Week this week, is now pouring.
The Dark Lager uses German malts and is apparently medium bodied and malty sweet with a roasty finish. There is a light NZ hop aroma without strong bitterness – making it a reflection on Newcastle's Dark Beer loving traditions.

As previously mentioned, 1942 refers to the year that a Japanese submarine shelled the inner city of Newcastle and the guns at Fort Scratchley fired for their first, and only, time in defence of the city.
Fittingly, this year marks the 70th anniversary of the event.

Only available this week on draught at Murray's Brewery (Port Stephens) and most of the participating craft beer week venues.
View venue details here: http://www.newcastlecraftbeerweek.com/