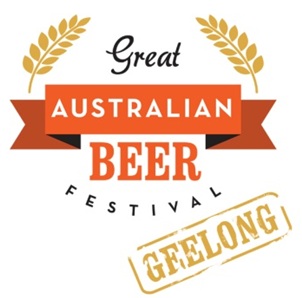 Self-proclaimed local beer ambassadors Kieran Blood and Michael Ward celebrate the launch of the Great Australian Beer Festival to be held on Saturday 2nd February at Geelong Racecourse. The new festival will showcase the growing popularity of craft beers and cider from 25 of the most interesting brewers from around Victoria and beyond. The festival is not just for beer fanatics and craft beer enthusiasts.
Seminars will be held throughout the day with brewers sharing their secrets of the trade. The festival will also feature a fun gastronomy focus with celebrity chefs and guest speakers showing craft beers diversity and variety. The racecourse will be transformed into a beer lovers' paradise as horses give way to some of the best craft beer brewers in Australia. It's going to look like a rather large beer garden ready for a family-friendly celebration of great beer, gourmet food and quality live entertainment", Mr Blood said.
"The surge of interest in craft beer has been coming for a long time. It's the strong diversity of flavours and aromas generally absent from macro brews and this is what sets boutique beers apart".
"The beer market has been dominated by the same large brewing companies for way too long and it was inevitable that consumers would eventually desire a greater variety and quality of beer", he said.
Geelong's craft beer scene is rapidly transforming with some of the country's best brewers already operating in the region and Little Creatures set to open their East Coast Brewery in the old Valley Mills in South Geelong next year.
Co organiser and local music promoter, Michael Ward said that while the festival is a true celebration of great beer and the craftsmanship, artistry and passion that goes into its creation, live music is also important in creating the right vibe. "I asked Bob Evans, aka Kevin Mitchell frontman for Jebediah to headline our music and was stoked when he accepted" he said.
'While this event celebrates the appreciation of beer, we cannot stress enough the belief we have in responsible drinking at all times and do not promote mass consumption. "This is no beer swilling Oktoberfest. Our audience are well-educated people looking to discover new beers, not get rolling drunk", Mr Ward said.
Free shuttle buses will operate to and from the festival from local railway stations so visitors can leave the car at home. Brewers participating at the Great Australian Beer Festival include:
Prickly Moses
Bellarine Brewing Company
Little Creatures
Holgate
Stone and Wood
Mornington Peninsula
Moo Brew
Mountain Goat
Murrays
Flying Brick Cider Co
and many more.
For 6 weeks, organisers will be running a promotion for those who buy tickets early. Every week, ticket holders will go into a draw to win a bar fridge full of beer (or cider) stocked by a local brewery.
The first prize will be from Prickly Moses Brewery, drawn tomorrow21/9.
Tickets can be purchased through the GABF Geelong website.
Further details visitwww.gabfgeelong.com.au