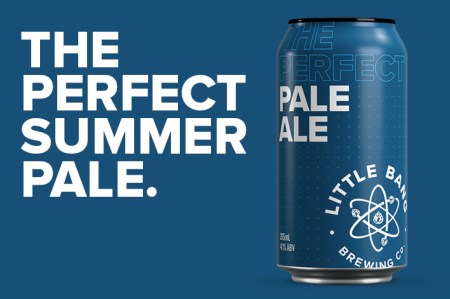 For over a year now Little Bang have been working on a recipe, to try and nail down their idea of the Perfect Pale Ale – full of lovely hop and malt characters, but also lively and sessionable, and at a price point you could grab a slab or two for a BBQ.
They've been testing it out on keg at their tap room for a while now, and it rapidly became one of the biggest sellers, so it was time to put this little beauty in cans.
Melba and Vic Secret hops give it some subtle and complex floral characters, there's a bit of passionfruit and honeydew melon going on, with a neat bitter bite to keep it all in balance. The body is medium/light with a crisp, biscuity malt presence, and at 4.1% ABV it's very, very smashable.
Little Bang are pretty damn pleased with it, it's their Perfect Pale and they hope you like it as much as they do. When all the elements come together like this, it's just perfect.
Available now from all good crafty establishments and the Little Bang Tap Room
25 Henry Street,
Stepney SA
This is a sponsored content piece. To find out more talk to the Beer & Brewer sales manager.