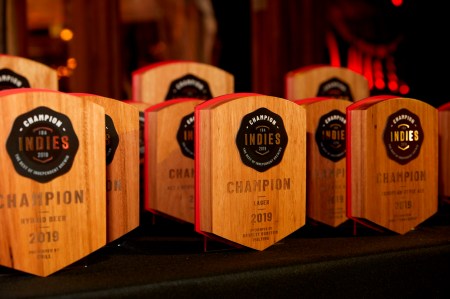 Presented by the Independent Brewers Association (IBA) the Independent Beer Awards (The Indies) will go ahead virtually for the second year running with the 2021 event to be broadcast live from a Melbourne studio on November 25.
IBA CEO Kylie Lethbridge said she can't wait to celebrate the best of Australian independent beer with the nation once again.
"While it's a shame we can't be together as an industry, we've learned that doing things virtually can have its upsides. We'll be back with more live parties around Australia and will be crossing to brewery taprooms and possibly a couch or two.
"Last year we got to see people celebrating with family and friends, and it really bought home just how much of a community we are, made up of a wide range of businesses, both small and large, scattered throughout Australia."
The night will be hosted by Kirrily Waldhorn and James Smith and will feature special musical interludes from Arlo Sim, who works for Wayward Brewing and also made the grand final of TV show The Voice earlier this year.
As well as upping the entertainment, the number of official parties has grown to give more of IBA members an opportunity to come together. They will be held in Brisbane (Easy Times Brewing Company, sponsored by Cryer Malt and Yakima Chief Hops), Sunshine Coast (Moffat Beach Brewing, sponsored by Hop Products Australia), Sydney (Grifter Brewing Co, sponsored by Konvoy Kegs), Canberra (TBA), South Australia (Mismatch Brewing, sponsored by Kegstar and Mighty Craft), Perth (Park Floreat Hotel, sponsored by Konvoy Kegs and Bintani), Margaret River (Shelter Brewing, sponsored by Hop Products Australia), Melbourne (Moon Dog OG, sponsored by Cryer Malt, Yakima Chief Hops and Konvoy Kegs) and Hobart (Deep South Brewing, sponsored by Hop Products Australia).
Despite having to navigate lockdowns and travel restrictions the IBA managed to pull together 34 judges, 50 volunteers and a small team of staff to get more than 1,389 beers from 180 breweries judged over three days in Brisbane.
Head judge Tina Panoutsos said she couldn't thank everyone involved enough for the hard work they put in to
making it happen.
"Due to the ever evolving and ongoing uncertainty we found ourselves in, we were fortunate to be able to lean on a few people that generously stepped up to take on more than what was required at the last minute and throughout the process.
"I can't overstate the appreciation and gratitude we have for the mammoth amount of work undertaken to execute this competition."
The IBA's head of events Siobhan Kerin added this year was the most challenging, with rolling lockouts changing judging and shipping constantly.
"It wasn't easy, but with such a high quality of beer this year, we know the results will reflect the incredible work of our members and indie brewers have been putting in over the past 12 months."
On the night there will be 26 trophies awarded, including these four major trophies: Champion Independent Beer; Champion Large Brewery; Champion Medium/Small Brewery; and Champion Brewpub.
There will also be seven State/Territory winners, trophies for champions in style and the special peer nominated trophies, including the Lifetime Achievement Award.
Bookmark this link and tune in 8pm AEDT on November 25 for the awards ceremony or listen out for further IBA announcements on state party invitations and registrations.
This is an edited version of a media release distributed by the IBA.