By Jessie Jungalwalla – a craft beer branding specialist, and the director of Craft Instinct – a brand development company specialising in the craft beverage industry. Here Jessie likens bad beer branding to fast fashion and how breweries can avoid the pitfalls of cutting corners when it comes to good design.
The Fast Fashion Temptation: The Biggest Mistake a Beer Brand can Make
Not long ago, I popped into one of the cheaper big name department stores to pick up a few things for the house. As I was walking past the clothing section, a seafoam green shirt caught my eye. I had been looking at shirts from a locally made brand, but this one was so much cheaper, literally an eighth of the price. Granted it wasn't organic cotton, and probably had a horrendous backstory of chemicals, carbon emissions and exploitative labour – but an eighth of the price! What did I have to lose? I tried it on, the fit wasn't perfect, but the cut was super trendy, that season's particular flavour, and I had an event coming up that it was perfect for.
Fast forward one month, I'd worn the shirt a few times, and some of the seams had unravelled. Two months and it had started to pill, not just on the wear points, but all over! Those infuriating little balls signalled game over and that was the end of that – the shirt went into the bin, and it was time for a new one. Next week I was back at that same department store, bought another shirt, and the exact same process repeated itself, right down to the two-month-pilling-game-over-signal. Damn.
It was then that I thought back to the locally made organic cotton shirts. The brand even offered free alterations for the perfect cut. If I'd bought that shirt in the first place, I wouldn't have wasted my money on the other two. These local shirts would last me at least a couple of years. That's the equivalent of 12 of the cheaper shirts! And the time I had wasted going to the store, trying them on, and buying them, not to mention the resources, carbon emissions and landfill waste and exploitation of labour they would contribute to. And I would have had a shirt that fit perfectly – and a clear conscience.
What. A. Waste.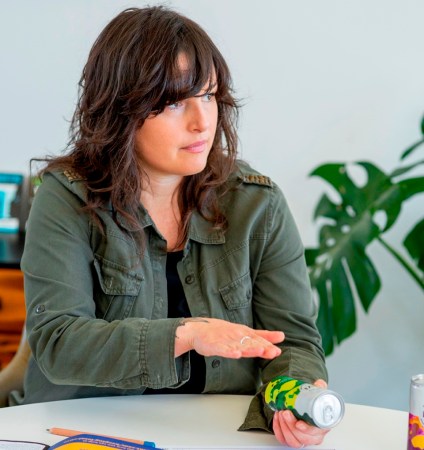 Then, probably because I do what I do (lead a craft beverage branding business) I realised that we have the same choices when it comes to branding our businesses – especially if it is a brewery. Consider this: when branding your brewery, you have choices of which brand designer to partner with, and therefore impact the ultimate outcome. The choice is between the cost of a cheap offshore logo design, or an investment in a full service marketing agency. Whatever business we are in, it is very easy to forget that a cost is a one way expenditure whilst an investment provides a clear return.
Like the cheap shirt, a cheap logo may look pretty to start with, but once you start to apply it to the very real needs of your brewery – like merchandise, signage, online stores and the big one – labels – you might come to the uncomfortable realisation that your brand is unravelling and that you have indeed spent your budget on a cost rather that an investment. Your product is not standing out on the shelf, people can't make out the words in your logo, the target market you hoped to attract find your brand underwhelming, or worse, they don't even notice it because the market place is so crowded with better and more effective designs.
The real damage emanates from the cumulative costs of all the branding applications, the packaging (labels, carriers, cases, tap decals, merchandise, signage etc), the time you and staff spent applying this brand everywhere. And the big one: market perception…the unknown damage you have done to your brand in the public eye.
What. A. Waste.
Unfortunately, in our business, we witness this sorry scenario unfold again and again. Over our years in the business, over 50 per cent of clients who approach us about a rebrand have gone down the cheap and not so cheerful route. We hear the same woes, the same bashful hand wringing. I understand though, I bought a cheap shirt once too you see…..
This 'fast fashion' temptation in branding comes from a knowledge gap, that we are passionate about closing. You understand your craft and that you have to invest in good equipment, and quality ingredients from top providers in their field to get a good result, why would your brand be any different?
Fast fashion is successful, for a specific market, same as the cheap branding and logo services are. Business to business services could get away with a cheaper logo option, but once you enter the business to consumer market, it is a whole different ball game, and if it's the craft beverage industry you are inhabiting, competition is fierce.
When on the shelf, you have less than a second to:
● Grab attention
● State your brand name
● Convey drink style/flavour
● Express your tone of voice
● Communicate your story
● Attract your target market
● And finally, to compel the consumer to pick up the can or bottle and ultimately make a purchase.
Yes, one second!
Poor branding is a cost. Good branding is an investment.
So, if you are feeling like your branding is letting you down, try to identify the pain points. Put a plan in place to fix these points. A good first step might be seeking some advice.
And if you are looking to rebrand, or brand for the first time, learn from my cheap shirt mistake and learn from over 50 per cent of our clients' mistakes. Make the investment so you don't end up with an unravelled, ill fitting brand, rather one that fits like a tailored shirt, attracts the right people, and lasts for years to come.
Ed's note: Recent Craft Instinct designs resulted in two runners-up awards in this year's inaugural GABS Can Design Award with their efforts on Grassy Knoll Brewing's 'Valley Lager' and Ocean Reach Brewing's 'Tropical XPA' both making the top 10. Craft Instinct have also been responsible for recent rebrands for the likes of Sanctus Brewing and Hargreaves Hill and brand creations for Delvi hard seltzers and Blackman's Brewery's sub-brand Barrel Farm.