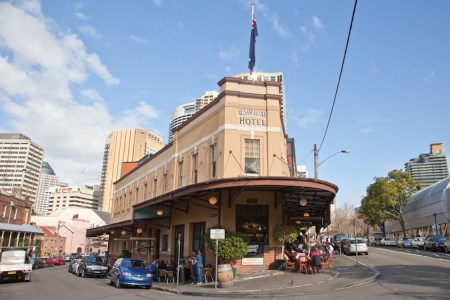 The Australian Heritage Hotel in The Rocks is set to be transformed into the ultimate street party for the annual Australian Beer Festival from 13-15 October 2017.
Cumberland and Gloucester streets come alive with great Australian craft beer festivities, showcasing more than 30 different Australian breweries, gourmet food stalls, meet the brewer sessions, blind tastings and live entertainment. In its 13th year, the renowned two-and-a-half-day bash features more than 120 Australian beers and ciders, sure to keep the palate of any beer lover content for the entire weekend.
With 30 stalls to roam, this year's festival shines the light on up and coming boutique breweries from around Australia. Local highlights include Batch Brewing (Marrickville), 4 Pines Beer (Manly), Grifter Brewing (Marrickville) and Modus Operandi (Mona Vale) while Adelaide's Pirate Life Brewing, Perth's Feral Brewing Company, Port Stephens' Murray's Craft Brewing Co and Gold Coast's Balter Brewing represent the rest of the nation.
Cumberland Street buzzes with live entertainment by The Beans and Charlie Heart whose contagious and uplifting sounds of funk, soul, jazz and blues never fail to inspire an energetic boogie. To add to the vibe, artists Matt Stewart and Sam Marks will serenade the crowd with the steady strum of their acoustic tunes.
The outdoor Beer Garden on Gloucester Street is the perfect chill out zone to enjoy a cold brew. Food stalls serve up delicious food, while the highly popular oyster bar by Seabreeze Beach Hotel South West Rocks is also back.
For the first time, festival goers will have the chance to see their favourite brewer go for a swim for a good cause with the addition of 'Dunk the Brewer'. For $5 you'll get three chances to hit the target. All proceeds go to Beyond Blue charity so donate, ditch and dunk. Returning again this year is 'Meet the Brewer' sessions and blind tastings, which are held twice a day on Saturday and Sunday.
In memory of pioneering craft brewer Geoff Scharer, the prestigious Geoff Scharer Best Overall Beer crowns the favourite brewer of the festival, along with Best Cider, Best Dark, Best Pale and Best IPA, as voted by the staff of the Australian Heritage Hotel. An additional Weird and Wonderful Award crowns the crowd favourite for most-quirky, voted by all the beer enthusiasts attending across the weekend. Brewers are encouraged to create a limited-edition specialty beer to serve throughout the weekend, adding even more variety and one-off excitement to the list of beers to try.
Tickets to the annual Australian Beer Festival are now on sale for $35 and can be booked on the Australian Heritage Hotel website. Ticket price includes a tasting cup and 10 tasting tokens.