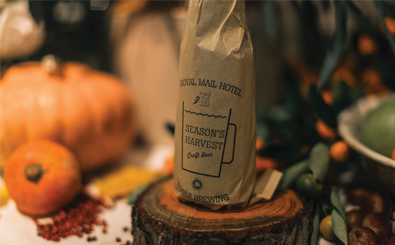 Victoria's Temple Brewing and Royal Mail Hotel have collaborated to create the first in a series of craft beers.
The two companies have joined forces to create a 'Season's Harvest' – a series of seasonal craft beers that will be available this month. Using local produce from the award-winning Royal Mail Hotel kitchen garden in Dunkeld, the wheat beer is infused with lemon verbena and pink peppercorns and was crafted by head brewer Glen Harrison from Brunswick-based Temple Brewing.
The Royal Mail Hotel celebrates and promotes local organic produce and is always looking for ways to work in partnership with local and like-minded businesses.
"We are so lucky to be located within a region that is rich in local wine, produce and passionate business people. Our aim is to nurture and promote these businesses in ways that also enhance our own visitor offering," said general manager of Royal Mail Hotel, Carl Forrest.
The new Autumn Lemon Verbena & Pink Peppercorn Wheat Beer will be available exclusively on tap at the Royal Mail Hotel and Temple Brewing.
Written by Daria Kurilo