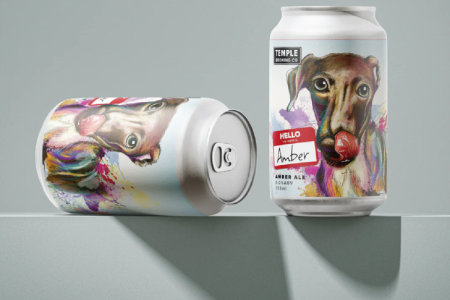 Temple Brewing and Amazing Greys Greyhound Rescue have teamed up on a new, limited edition beer that will help support the mission of rescuing and rehabilitating greyhounds in need. They're also hosting a market day at Temple's Brunswick East venue on April 15 to launch the amber ale dubbed Hello My Name is Amber.
The beer, which features a combination of specialty malts and rye and was dry hopped with Vic Secret, will be available for a limited time at Temple's taproom and select local retailers, and bars while a portion of the proceeds from each sale will be donated to Amazing Greys to help cover the costs of caring for and finding homes for the dogs.
Temple venue manager William McAteer said: "So many dogs, including greyhounds, visit us all the time and it's excellent to be able to give something to them. The beer is tasting great and we can't wait to release it too".
Amazing Greys volunteer Michael McKenzie added: "Temple felt like a perfect match for us. If you look around there seems to be at least one rescued greyhound per 10 people in the area. We are grateful for the support of Temple and are excited to see how this partnership can help raise awareness for greyhound rescue efforts. Every case sold will help us provide more care and resources for these amazing dogs".
The doggy market day launch event runs from 12pm to 4pm and will feature live music, stalls from local independent pet treat and accessory vendors, a pet photographer and more. There will also be the chance to meet some of the greyhounds that have been rescued by the organisation.
This is an edited version of a media release distributed by Amazing Greys.