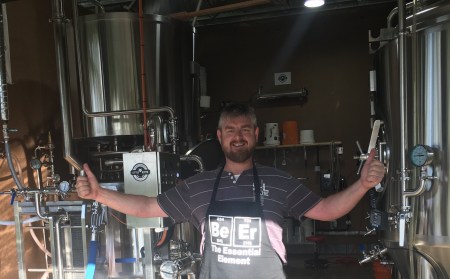 TAFE SA is planning to trial a new trainee program for breweries within Certificate III as it also looks to develop the new Certificate IV in Artisan Fermented Products qualification.
The new Certificate IV in Artisan Fermented Products was developed from Certificate III in Food Processing recently following work by Skills Impact.
TAFE SA has seen a significant increase in applications for its craft and microbrewing training course since it started offering it and the course currently enjoys a full booking, with approximately 30% of students enrolling from interstate.
"When I first started running the course six years ago, the students were from South Australia only, and already working in the industry," says Stephen Nelsen, head brewery lecturer at TAFE SA. "More recently, they are coming from all over Australia and are mostly career-change seekers, with start-up breweries or wanting to move in to brewing.
"There are backyard brewers starting up every day. They need the training to develop their commercial brewing knowledge and to manage the health and safety risks that come with producing food and beverage products."
Nelsen wants to trial a new trainee program where the Certificate III can be delivered through a combination of workplace training and formal TAFE education. He is also keen to develop the Certificate IV qualification further.
The hope is that this traineeship will lead into the Certificate IV pathway, offering training for those managing the brewing process or starting their own business.
"Ideally, I would put on an additional trainer, but it is hard to find trainers when they are all busy brewing beer!
"Other states are bringing in vocational brewing courses, but there is still a lack of supply of training. In the last five years we could have delivered training to twice the number of students, if we had more capacity."
"When we started looking at brewing skills, we quickly came across a whole range of artisan businesses, fermenting all types of ingredients, for a wide range of food and beverage products," Michael Hartman, CEO of Skills Impact, whose recent project investigated brewing skills in Australia.
"Our brewing project turned into a project to create a Certificate IV in Artisan Fermented Products, which is now available for training providers to deliver."
Lachy Mutton, a recent graduate who was awarded TAFE SA Brewery Student of the Year in 2019, started his own brewery – Little Rippa Brewing Company – before enrolling in the course.
"I decided to bite the bullet and start Little Rippa Brewing Company to bring my own beer into my restaurant," he explains. "That's also when I decided to enrol in a course to increase my knowledge and skills.
"The course helped me to produce more consistent products and expand my business from a domestic operation to a commercial level operation. I have gone from brewing 100 litre batches to 15,000 litre batches."