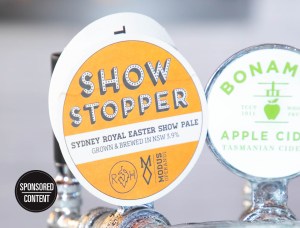 A beer brewed exclusively for the 2019 Sydney Royal Easter Show will be available at the Sydney Royal Beer and Wine Bar.
Within a menu of 12 wines and 11 beers, the ShowStopper Australian Pale Ale is a RAS initiative exclusive beer, made by Mona Vale's Modus Operandi Brewing Company especially for the Show.
"The idea to brew a beer exclusively for the Sydney Royal Easter Show was an RAS initiative – it provided the opportunity to engage with regional producers and bring agriculture to the masses in a unique way," says Kate Saba, manager of The Stables at the Sydney Royal Easter Show. "The Stables made for the perfect venue to showcase the ShowStopper to visitors looking to enjoy award winning beer and wine and delicious food in a relaxed atmosphere."
The beer was brewed on 28 February 2019 using Cascade hops from Ryefield Hops in Bemboka, and malted barley from Voyager Craft Malt, meaning it was made with 100% NSW-grown ingredients. It is a sessionable beer, with an ABV of 4.2%.
"We timed the brew to ensure we used the freshest wet hops picked and timed to go directly from the hop bine into the brew: as fresh as it gets," says Grant Wearin, head brewer at Modus Operandi Brewing. "The style is perfect to enjoy at the Royal Easter Show, it's crisp, easy drinking with a rounded biscuity flavour and at 4.2% it's a thirst quencher after a day at the Show.
"We love these projects, it's been great using fresh, local ingredients. It's fantastic to get the opportunity to have a beer brewed and pouring especially for the Sydney Royal Easter Show. Showcasing all NSW ingredients and producers is an absolute rarity these days in the brewing world so its satisfyingly unique."
"The ShowStopper showcases Cascade hops grown using organic principles at Ryefield Hops," adds Jade McManus, owner and grower at Ryefield Hops. "It is great to be involved in this unique beer made for the Show bringing produce from NSW farmers together celebrating regionality and provenance."
"Craft beer is an agricultural product, barley and hops- these essential ingredients start in the ground," adds Stuart Whycross, owner from Voyager Craft Malt. "The rise of craft beer is seeing a new wave of beer agriculture, businesses like ours and Ryefield hops working closely with growers and brewers to create quality products in the most sustainable ways, here locally in New South Wales and what better place to launch the beer than at the Sydney Royal Easter Show.
"Buying a local beer that uses local malt and hops, supports a healthy agriculture industry, and local economy."
Modus Operandi has competed in the Sydney Royal Beer and Cider Competition since 2014, and in 2017 they took the title for Best NSW Beer with their Former Tenant Red IPA.
"We work every year with the with the team at the Sydney Royal Easter Show, helping them with ShowStopper to deliver a world class product," adds Wearin. "Our heritage, having won several gongs including a best in show at the Sydney Royal Awards, means we're a proud independent producer that the RAS gets behind, like they do a whole range of us independent brewers through the Sydney Royal Awards."
The Sydney Royal Easter Show runs from Friday 12 April to Tuesday 23 April.