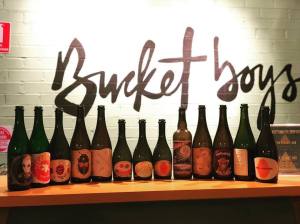 Bucket Boys is set to launch a crowdfunding campaign with hopes of raising up to $1 million.
With a minimum target of around $200,000, the Sydney craft beer retailer hopes to build up the business with a three-tiered approach. The first steps of funding will go to sorting out the company website and setting up the two new shops that have been agreed – one in Darling Point and one in Penrith.
"We've signed the lease on both of them, so it's going ahead," says Jonathan Hepner, co-founder of Bucket Boys. "The first one is in the new development called Darling Square in between Haymarket and Darling Harbour. It's a massive place for tourism and for locals. We're going to be putting up a bottle shop and a bar in the middle of the Exchange Building.
"We always wanted to put a shop out west in Penrith or somewhere in the foothills. We found a spot right next door to High Street Social in Penrith. We're putting a bottleshop there. It's becoming a nice little area for beer. We think the west is so under-serviced and the rent is so good from a business perspective that it's very low risk out there."
The second tier of funding will enable the company to brew and import more beer. The third tier will enable Bucket Boys to get closer to the aim of opening a brewpub that will "tie it all together".
By law, the highest amount that can be invested is $10,000, and Bucket Boys have set a lower limit of $150. As well as company shares and merchandise, every crowdfunding investor will receive lifetime discounts with Bucket Boys – online, in the bottleshops and in the bars.
"Our business is at a stage where we're not profitable, so we're raising this money to expand in the hopes that we're going to grow to a place that we can get out of treading water," explains Hepner. "What we wanted to do was create rewards that see you get a return on your investment regardless of whether we pay you a dividend. We're trying to give people something that substantial. We wanted to make it a no brainer for people."
Those who invest at the lowest level – $150 – will receive a lifetime 10% discount on beer, as well as a beer on their birthday at any of the bars (or one free shipping voucher if you don't live in Sydney).
The next level is $600. Bucket Boys is turning its White Whale Society subscription service into a shareholder model for this level of investor.
"That next level investor will become a White Whale member for life," adds Hepner. "That means they get pre-release access, which comes in handy when we're releasing things like Cloudwater cans. They sell out so fast, it's nice to know that you're going to get access to them first.
"We'll also do members-only beers, we'll do White Whale tastings, and they'll get a 15% lifetime discount as well."
The next two levels are $2,400 and $5,000 – gold and black levels. Gold investors will receive a 20% lifetime discount and a subscription to Bucket Boys' quarterly magazine. Those who invest $5,000 will get a 25% discount for life.
"You're pretty much getting beer close to cost – a lifetime of beer," says Hepner.
At these two top levels, Bucket Boys is introducing a syndicate option. At gold level, two people can split the investment cost, but both will still receive the benefits. At black level, the investment can be split between four people.
"So you and three of your mates could go in $1,250 each, and then each get a 25% discount and own 10,000 shares in Bucket Boys," says Hepner. "We're really trying to splash it with the discounts. If people are willing to put money into a business like ours in the transition stage if they want to go on the journey with us, we want them to go on the journey and feel like they really get some value out of it. I want them to feel like family members."