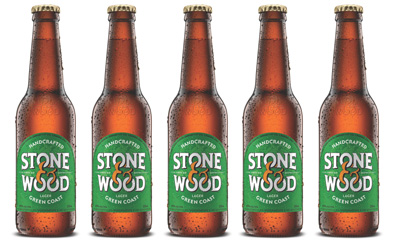 Stone & Wood has announced some 'tweaks' to its popular lager, including a new name and packaging.
Rebranded as 'Green Coast' to reflect the brewery's provenance, the lager is the brewer's second biggest selling beer seeing growth of 80 per cent on last year, making it close to a half-a-million litre product.
As well as the name change, Stone & Wood is also updating the lager's packaging, putting it into brown bottles. The bottled beer will also now be unfiltered to match its draft format.
"The delicate and finely balanced flavours of Green Coast have always been admired by true flavour junkies over the years. The people who genuinely understand the nuances involved in bringing disparate flavours like bitter and sweet together in harmony," Stone & Wood said in a statement about the changes.
"It's been the quiet achiever in our range of beers because Pacific Ale has got all the attention (and tanks).
"It's not easy making lager and our brewing team have always taken great pride in continually making minute tweaks to the structure of Green Coast in keeping with that ongoing journey towards brewing nirvana."
Green Coast will start replacing Stone & Wood's existing lager over the next few months in bottleshops and on tap.