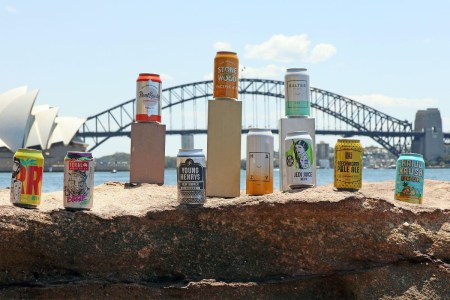 Stone & Wood Pacific Ale has reclaimed top spot in the GABS Hottest 100 Aussie Craft Beers of 2019.
A record 177,000 votes were cast by 35,500 beer lovers across Australia as they supported the Australian craft beers that they love the most.
On Saturday 25 January 2020, thousands of people followed the countdown online and on social media, while over 60 events were held at pubs, bars and breweries across the country.
Stone & Wood Pacific Ale reclaimed top spot after recording wins in 2011, 2015 and 2016. Reaching #14 on debut in 2009, the beer got onto the podium at #3 the following year and has never been off it since.
"To come in number one once again feels like a huge achievement after the Original Pacific Ale's journey and we're thrilled that beer-lovers are still discovering and enjoying it now as much as ever," Nick Boots, managing director of Stone & Woods Brewing Co, tells Beer & Brewer.
"We're also stoked to see our Cloud Catcher Australian Pale Ale move up to number 23 among other top 100 results for our beers. A huge 'thank you' to all our trade partners and drinkers who voted for us. Finally, congratulations also go out to our mates at Balter, Bentspoke and all the other independent breweries who made the Hottest 100."
In claiming the title Pacific Ale nudged Balter XPA into #2, which had sat at #1 for the previous two years. Balter, which was sold to CUB in December 2019, had eight beers recorded on the list, the most of any brewery in the past 10 years, with two of those in the Top 10 and its Hazy IPA the highest ranking newcomer.
"These poll results meant a lot to us and we're stoked on what was our strongest ever showing in the Hottest 100," Stirling Howland, co-founder of Balter, told Beer & Brewer. "I think a lot of commentaries had us sliding into insignificance (post-sale) so to see our community get behind us like never before was a really nice feeling and we're super thankful for their support."
BentSpoke Brewing Co's Crankshaft IPA retained its third place finish once again and secured six places in the overall list, with Capital also featuring six beers to bring ACT's representation to 12.
"2019 has been BentSpoke's biggest ever growth year, and to start 2019 with six of our beers placing in the Hottest 100, is not something we would've dreamt of five years ago," says Tracy Margrain, BentSpoke's co-owner.
"We are so thrilled to get this recognition, and if anything, it's inspired us to bend the rules of beer further than we have before. It's an incredibly exciting way to start 2020, and of course, we'll have more exciting new beers coming up this year."
List shows beer trends
The GABS Hottest 100 list showcases Australia's most popular craft beers, but it also offers insights into what is happening within the industry overall and what beer drinkers are looking for.
Interestingly, all the beers in this year's Top 10 are available in cans, highlighting the continued growth in their popularity in recent years.
In all, 79% of the listed beers were made by independently owned breweries, down from 88% last year, but up from the 71% of the year before.
This shows that independence remains important for customers, but also reflects the purchases last year of Balter and Green Beacon by CUB and Asahi respectively.
Three quarters of the Top 100 were pale ales and IPAs, highlighting the popularity of these styles, with the rest largely made up of lagers and sour beers.
Queensland roars
Queensland continued its pursuit of New South Wales and Victoria in craft beer dominance, with 12 different breweries producing 29 beers that made the list, more than any other state. New South Wales was next, with 25 beers from 12 breweries, with Victoria featuring 19 beers from 11 breweries.
Six beers from four Western Australian breweries made the list, while five beers from two South Australian breweries were represented. No beers from Northern Territory or Tasmania made the list.
New beers and big risers
Additionally, the breweries' desire to make new beers and beer drinkers' desire to try them show little sign of slacking. Out of the 100 beers on the list this year, 30 were making their debut and 18 were only brewed for the first time in 2019.
There were some big risers in the list from last year as well, with Feral's Biggie Juice rising 93 places to claim #7. Capital's Hang Loose Juice rose 79 places to reach #18. Colonial Brewing Co saw big rises also, with South West Sour rising 58 spots to #38 and Colonial Pale moving up 31 places to #29.
Black Hops saw its Super Hornet Imperial IPA rise 55 places to #33, while its Hornet IPA climbed 21 spots to #22. Grifter and Young Henrys also saw big jumps for Serpent's Kiss (up 44 places to #34) and Motorcycle Oil (up 32 places to #62) respectively.
Voting for GABS Hottest 100 Kiwi Craft Beer is still open and will close at midnight on Monday 27 January.
The full list of winners
Stone & Wood PACIFIC ALE (Australian Pale Ale) NSW * ↑ 1
Balter XPA (Pale Ale) QLD ↓ 1
BentSpoke CRANKSHAFT (American IPA) ACT * ↔
Young Henrys NEWTOWNER (Australian Pale Ale) NSW * ↔
Your Mates LARRY (Australian Pale Ale) QLD * ↑ 8
Bridge Road BEECHWORTH PALE ALE (Australian Pale Ale) VIC * ↓ 1
Feral BIGGIE JUICE (New England IPA) WA ↑ 93
Balter HAZY (New England IPA) QLD NEW ☆
KAIJU! KRUSH! TROPICAL PALE ALE (Pale Ale) VIC * ↓ 1
Hop Nation JEDI JUICE (New England IPA) VIC * GABS ↓ 1
Balter IPA (American IPA) QLD ↓ 4
BentSpoke BARLEY GRIFFIN (Australian Pale Ale) ACT * ↓ 1
Burleigh TWISTED PALM (Australian Pale Ale) QLD * ↑ 35
Black Hops PALE ALE (Australian Pale Ale) QLD * ↔
Gage Roads SINGLE FIN (Australian Pale Ale) WA * ↓ 5
Coopers XPA (American Pale Ale) SA * NEW ☆
BentSpoke CLUSTER 8 (Imperial IPA) ACT * ↓ 5
Capital HANG LOOSE JUICE (New England IPA) ACT * ↑ 79
Coopers ORIGINAL PALE ALE (Australian Pale Ale) SA * ↓ 2
Balter CAPTAIN SENSIBLE (American Pale Ale) QLD ↓ 1
Philter XPA (Australian Pale Ale) NSW * ↑ 5
Black Hops HORNET (American IPA) QLD * ↑ 21
Stone & Wood CLOUD CATCHER (Australian Pale Ale) NSW * ↑ 5
4 Pines PACIFIC ALE (Australian Pale Ale) NSW ☆
Balter DAZY (Double New England IPA) QLD NEW GABS ☆
Balter HAZY DC (New England IPA) QLD NEW ☆
4 Pines PALE ALE (American Pale Ale) NSW ↑ 13
Modus Operandi SONIC PRAYER IPA (American IPA) NSW * ↑ 4
Colonial PALE ALE (American Pale Ale) WA/VIC * ↑ 31
BentSpoke SPROCKET (American IPA) ACT * ↓ 14
Capital COAST ALE (California Common) ACT * ↓ 16
James Squire ONE FIFTY LASHES (Australian Pale Ale) NSW ↑ 12
Black Hops SUPER HORNET (Imperial IPA) QLD * ↑ 55
Grifter SERPENTS KISS (Fruit Beer) NSW * ↑ 44
Moon Dog OLD MATE (American Pale Ale) VIC * ↑ 20
Grifter PALE (Australian Pale Ale) NSW * ↑ 2
Furphy FURPHY REFRESHING ALE (Kölsch) VIC ↓ 12
Colonial SOUTH WEST SOUR (Hoppy Sour) WA/VIC * ↑ 58
Stomping Ground GIPPS ST PALE ALE (American Pale Ale) VIC * ☆
Your Mates SALLY (American IPA) QLD * NEW ☆
Coopers SESSION ALE (Pale Ale) SA * ↓ 19
Brick Lane ONE LOVE (Australian Pale Ale) VIC * ☆
Coopers SPARKLING ALE (Australian Sparkling Ale) SA * ↑ 3
Dainton BLOOD ORANGE NERIPA (New England IPA) VIC * ↓ 8
Heads Of Noosa JAPANESE LAGER (Pale Lager) QLD * NEW ☆
Bondi Brewing BEACH BEER BONDI (Australian Pale Ale) NSW * ☆
Ballistic OAKED XPA (Pale Ale) QLD * ☆
10 Toes PIPELINE (Australian Pale Ale) QLD * ↓ 11
Feral IMPERIAL BIGGIE (Double New England IPA) WA NEW GABS ☆
Balter IIPA (Imperial IPA) QLD ↓ 44
Feral HOP HOG (American Pale Ale) WA ↑ 2
10 Toes HAPPY DAYS (American IPA) QLD * ↑ 18
Capital ROCK HOPPER IPA (American IPA) ACT * ↓ 32
Little Creatures PALE ALE (American Pale Ale) WA/VIC ↑ 8
BentSpoke RED NUT (Red IPA) ACT * ↓ 32
Young Henrys NATURAL LAGER (Kellerbier) NSW * ↓ 25
Modus Operandi FORMER TENANT RED IPA (Red IPA) NSW * ↓ 24
Jetty Road PALE ALE (American Pale Ale) VIC * ↓ 29
Mountain Goat GOAT (Hoppy Lager) VIC ☆
Moon Dog SPLICE OF HEAVEN PINE-LIME (Milkshake IPA) VIC *
Big Shed BOOZY FRUIT (New England IPA) SA * GABS ↓ 43
Young Henrys MOTORCYCLE OIL (Porter) NSW * ↑ 32
Balter STRONG PALE ALE (American Pale Ale) QLD ↓ 39
Colonial IPA (Australian IPA) WA/VIC *
Wayward RASPBERRY BERLINER WEISSE (Berliner Weisse) NSW * ↓ 1
Currumbin Valley GRAPE BUBBLEGUM SOUR (Kettle Sour) QLD * NEW GABS ☆
Capital TRAIL PALE ALE (American Pale Ale) ACT * ↓ 40
Brick Lane BASE LAGER (Helles Lager) VIC * ☆
Stone & Wood THE GATHERER (American Wheat) NSW * ☆
Fixation FIXATION IPA (American IPA) VIC * ↑ 21
Young Henrys IPA (Australian IPA) NSW * NEW ☆
Thirsty Crow VANILLA MILK STOUT (Sweet Stout) NSW * ↓ 27
BentSpoke HOW'S IT GOSEN? (Gose) ACT * NEW ☆
Bridge Road BEECHY XPA (Australian Pale Ale) VIC * ↓ 27
10 Toes LAGER (Australian Pilsner) QLD * ↓ 8
Green Beacon WAYFARER (Pale Ale) QLD ↓ 20
Bondi Brewing BONDI DRAUGHT (Australian Pilsner) NSW * NEW ☆
Capital BIG DROP DOUBLE IPA (Imperial IPA) ACT * NEW ☆
Your Mates MACCA (Helles Lager) QLD * NEW ☆
Brick Lane RED HOPPY ALE (American Amber/Red) VIC * NEW ☆
Hemingway's 7TH HEAVEN TROPICAL ALE (Australian Pale Ale) QLD * NEW ☆
Stone & Wood STICKY NECTAR (Milkshake IPA) NSW * ☆
Capital EVIL EYE RED IPA (Red IPA) ACT * ↓ 34
Burleigh BIGHEAD (Pale Lager) QLD * ↓ 13
Beerfarm ASAM BOI GOSE (Gose) WA * ☆
Black Hops CARIBBEAN HAZE (New England IPA) QLD * NEW GABS ☆
Hop Nation DREAMFEED (New England IPA) VIC * NEW ☆
Nail VPA (Pale Ale) WA * ↓ 16
Young Henrys STAYER (MID) (Hoppy Lager) NSW * ☆
Moon Dog BEER CAN (Hoppy Lager) VIC * ↓ 22
4 Pines INDIAN SUMMER ALE (American Pale Ale) NSW ↓ 10
Akasha MOSAIC IPA (American IPA) NSW * ☆
Green Beacon WINDJAMMER (American IPA) QLD ↓ 73
Brouhaha STRAWBERRY RHUBARB SOUR (Kettle Sour) QLD * ↓ 17
Akasha KORBEN D. DOUBLE IPA (Imperial IPA) NSW * ↓ 36
Mountain Goat SUMMER ALE (Blonde Ale) VIC
Bridge Road BLING IPA (American IPA) VIC * ↓ 10
Range / Mr Banks / Mr West PARTICIPATION AWARD (Double New England IPA) QLD * NEW ☆
Your Mates DONNIE (Porter) QLD * ↓ 6
Batch PASH THE MAGIC DRAGON (Kettle Sour) NSW * ↓ 8
Key
↔: Maintained position from 2018
↑X: Up X places from 2018
↓X: Down X places from 2018
☆: First Hottest 100 appearance
*: Brewed by an independent brewery (as defined by the Independent Brewers Association)
NEW: Brewed for the first time in 2019
GABS: A 'Festival Beer' brewed especially for GABS Craft Beer & Cider Festival