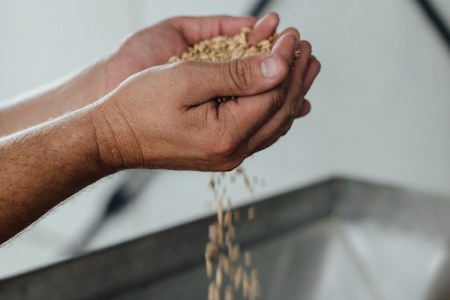 In a commitment to the future of regenerative agriculture in Australia, Stone & Wood have partnered with Certified Sustainable and Voyager Craft Malt to produce beers that are better for the earth.
Working with passionate sustainable farmers accredited by Certified Sustainable and their long-time malt partners Voyager Craft Malt, Stone & Wood said they're thrilled to be starting their journey towards a much greener future.
The B Corp brewers currently employ the use of Certified Sustainable ingredients in their limited-release beers, including their Counter Culture brand and winter seasonal Stone Beer, but have pledged to increase its use to include their core range beers this year.
Currently, monoculture practices in farming and agrochemical inputs are killing many of the beneficial microbes that maintain soil health and fertility. According to the UN, up to 40 per cent of land around the world is now classified as degraded, impacting half the earth's population*.
As part of their commitment (see below for the full pledge), Stone & Wood will be supporting Australian farms who are dedicated to maintaining the integrity of the soil's micro-biome, promoting biodiversity, sequestering carbon and enhancing resilience. Accredited Certified Sustainable farmers are also custodians of best water practices, reduce reliance on artificial and synthetic fertilisers and pesticides, and strive to produce nutrient-dense crops.
As the beer industry is one that relies heavily on agricultural practices, Stone & Wood believes it is their responsibility to help increase awareness and demand for sustainable farming within Australia.
Stone & Wood impact leader Jahdon Quinlan said: "To us this pledge marks an important milestone and the start of our journey in contributing and leading the growing movement towards regeneration.
"We are always looking at innovative ways to reduce our footprint and reimagine the ecology of brewing and this commitment is a step in the right direction to help create positive change on a broader level with our suppliers, customers, and the environment."
Certified Sustainable Miriam Neilsen said: "We are incredibly proud to have Stone & Wood lead the way and join our Certified Sustainable community. In addition to a commitment to purchase Certified Sustainable ingredients, Stone & Wood has successfully completed their audit which also verified compliance with implementing environmental, social and governance initiatives through the Stone & Wood value chain.
"This sets an important example to food and beverage producers, that you can make a real difference to planet health by choosing sustainably grown ingredients. Supporting farmers who have verification of lowering synthetic fertilisers and greenhouse gas emissions, whilst regenerating soil health and the ecosystem around them."
Stone & Wood's Proposed Environmental Action Commitment Statement states: "Stone & Wood believes in a sustainable future, where the ingredients we use also replenish the earth, regenerate our soil and contribute to a thriving planet. In order to help this vision become a reality, Stone & Wood commits to support regenerative agriculture in Australia. We pledge to scale our use of regenerative ingredients and bring these ingredients into the mainstream. While doing so, we commit to supporting local farmers, expanding the demand for regenerative ingredients in Australia. We also aim to shine a light on the issue of global soil degradation and the impact this is having on the community and the environment. It is our intention to be a part of the solution. The part that also has great beer."
*United Nations Global Land Outlook 2 Report, April 2022.
This is an edited version of a media release distributed by Stone & Wood.