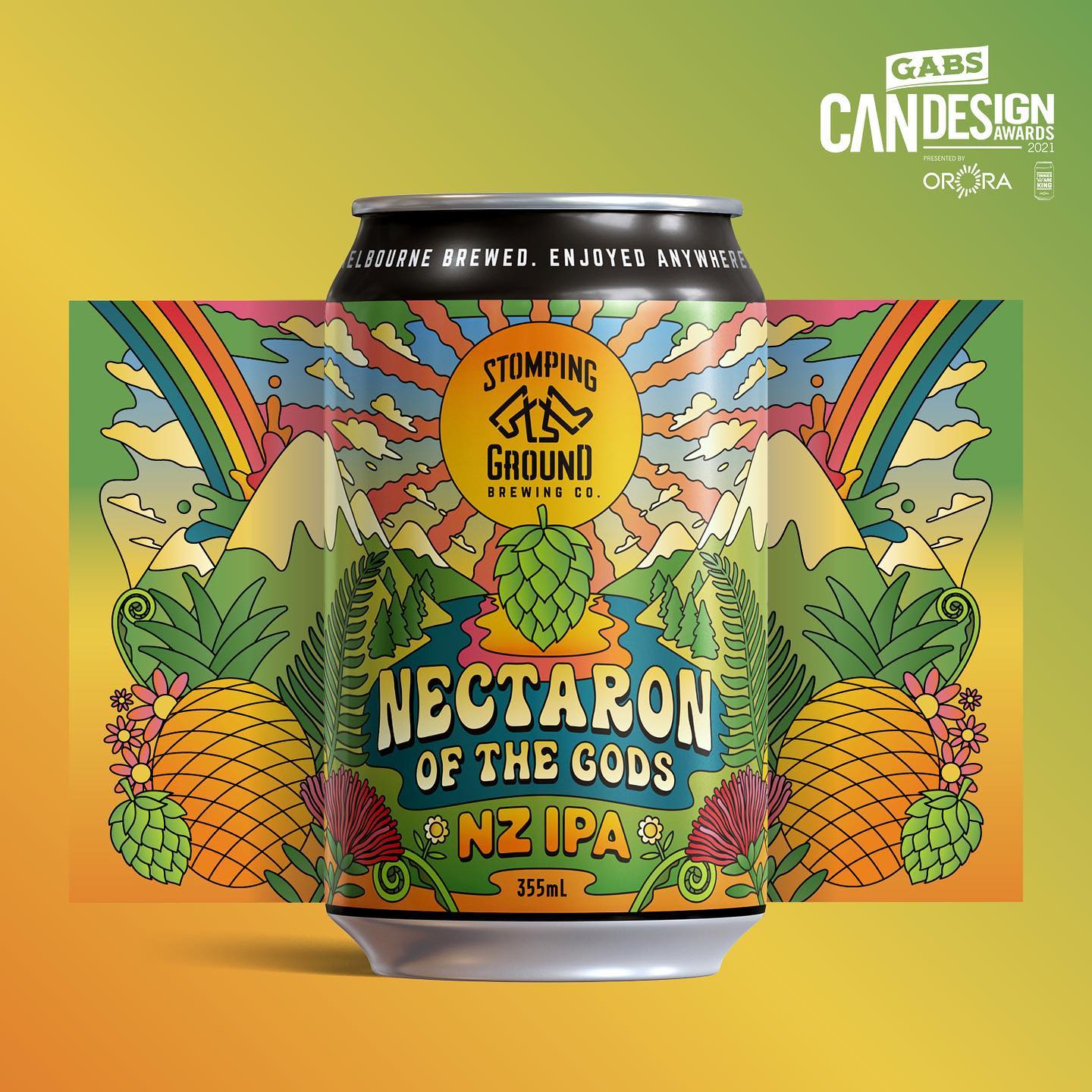 Melbourne's Stomping Ground Brewing and designer Terry Ricardo have won the second GABS Can Design Awards trophy with their Nectaron of the Gods NZ IPA label. Stomping Ground will now receive a set of printing plates from the awards presenting partner Orora valued at $3,000 while Ricardo wins $1,000 in cash and a 12 month business directory subscription from Brews News.
Queensland breweries took out silver and bronze, with Blackflag backing up a top 10 finish in last year's inaugural event to place second with their Kick Ons mid-strength pale ale (designer Ross Holloway) and Aether's El Jefe Mexican lager came third (designer Steve Falco, Procreative).
Last year's winners – Adelaide's Little Bang Brewing and designer Matt O'Connor – placed fourth with their Zero Kelvin Cold IPA as South East Queensland's Black Hops were another to repeat a top 10 result from last year to rank fifth with the Murder Hornet Imperial IPA (designer David Heavyside).
The next five to round out the top 10 were (in order): Brick Lane Brewing's Sidewinder Ultra Low Alcohol Hazy Pale (designer Pete Johnson, Can I Play), Pirate Life's Rum Barrel Aged Coffee & Molasses Baltic Porter (designer Harrison Plane, Harry Plane), Temple Brewing's Last Tram to Brunswick DDH NEIPA (designer Raymond Lim, Raymond L Creative), Bucketty's Brewing's Tawny Grogmouth Pale Ale (designer Brent Turner) and Cavalier Brewing's Event Horizon Black IPA (designer Jason Burton).
Aside from Stomping Ground, the other top 10 placegetters will share an additional $5,000 worth of prizes from Opal Specialty Packaging.
GABS' Mike Bray said: "What an incredible celebration of our amazing Australian craft brewery industry with record nominations and the talent and creativity on the outside of each tin matching the brilliant craft beverages inside. We were so pleased to be able to bring some joy to craft lovers and help the industry that gives us so much pleasure to come roaring back after another difficult Covid-impacted year."
You can view the full gallery of entrants, and the breweries that placed in the top 5 in their respective state, here.