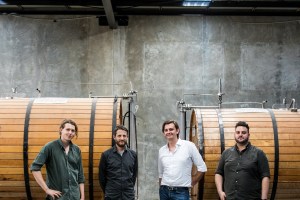 Tribe Breweries has announced further details about its Stockade brewery, tasting room and bar, which will open in Marrickville in May.
The venue is part of a rebrand of contract brewer Brewpack, which is changing its name to become Tribe Breweries, as well as building a new brewing facility in Goulburn.
Located in an old factory space, Stockade Brew Co will include a bar and a communal dining area fir for 250 guests and a tasting room for 14 guests. The space was designed by RAD Studios and will feature steel screens and wooden furniture.
The brewery has also commissioned a bespoke bar front which has been made using repurposed barrel staves, taken from past barrels used for Stockade's beers and customised lightbox menu boards and LED lighting from Lighting Culture & Macgyer.
The bar will offer a core range of four beers, as well as limited edition brews from Stockade, four revolving guest taps and a rotation of four barrel-aged beers created and aged on-site. Head brewer Daniel Fardon is currently brewing a 6.5% Kentucky bourbon barrel-aged IIPA in preparation for launch.
Food trucks from Eat Drink Collective will provide the food, with a series of monthly collaborations. Baby Rey's is taking over for the first month, serving American-style burgers and fries. In addition, the brewery will host tasting sessions, brewery tours, butchery masterclasses, beer and cheese pairings, and cocktail masterclasses throughout the week, held in a private tasting room which features two of their large mixing barrels.
"We've been really fortunate to have earned a lot of support for our beers over the last few years, so opening a space in the home of Sydney micro-brewing felt like the natural progression" says Stockade Brew Co's founder Anton Szpitalak. "A brewery is a place for a beer drinker to connect with brewers and the process behind it, so having the tasting room at the heart of the warehouse brings this to the forefront.
"It was equally important for us to create a space that also suits those who might not drink beer, but still want to come out and have a good time. We're really excited to have collaborated with suppliers such as Urban Winery Co and Eat Drink Collective to build and conceptualise an expansive food & drinks offering that is truly unique to this brewery."