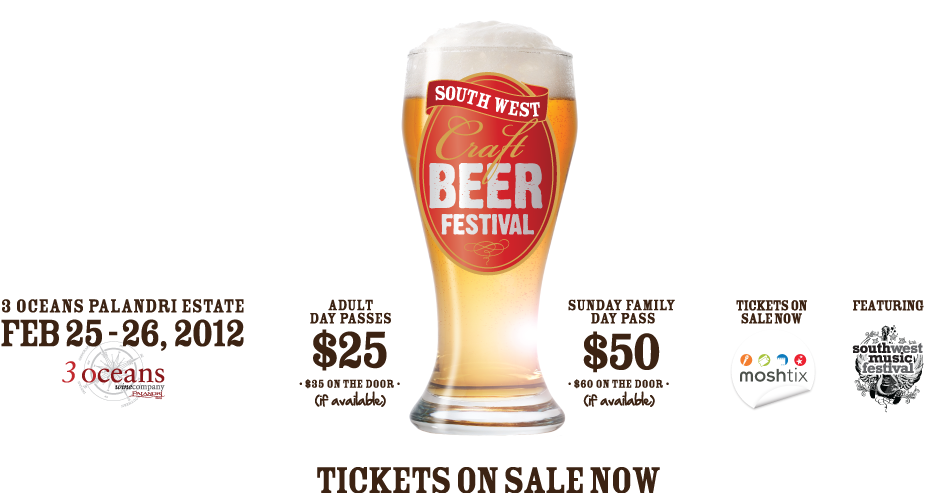 Minister for Regional Development Brendon Grylls and Minister for Tourism Kim Hames have announced the inaugural South West Craft Beer Festival as part of the 2012 Eventscorp Calendar Launch.
The event has been granted support through the Government's 2012 Extraordinary Regional Events Scheme (RES), which ensures greater investment in regional events, in turn benefitting regional communities and economies.
The South West Craft Beer Festival will be held at the 3 Oceans Palandri Estate on Bussell Hwy, Metricup over the weekend of February 25th & 26th. The location will transform into a hive of activity, with an expected 3,000 festival goers set to sample the region's finest brews and be entertained as the best of the South West music artists are showcased throughout the weekend on the main stage.
Craig Cumming, Manager of 3 Oceans Palandri said that he was thrilled for his venue to host the inaugural South West Craft Beer Festival. "We've been committed to serving WA craft beer at our venue for a number of years now, and we're relishing the opportunity to be part of what will undoubtedly become a showcase annual event," he said.
WA's South West, a region renowned for its wineries, surf beaches and relaxed atmosphere has in recent years become just as famous for its award winning craft breweries, each with their own distinctive style. "Everyone knows Margaret River and the South-West of WA for the wine but we now think they need to know the region for it's incredible array of craft beers. When we started researching this event concept we were actually amazed at how many local brewers there now are in the south-west. It is really exciting to bring together more than a dozen of these brewers to showcase their craft in one central location. Combine this with a line-up of the most talented music acts from the region and it is going to be a really fun weekend," said Event Director Jason Dover.
The South West Craft Beer Festival will culminate in a relaxed family day on the Sunday, with a children's entertainment area being set up to keep the little ones amused.
Adult day passes are $25, with entry including a beer glass, six tasting tokens and all entertainment.
Sunday family tickets are available for $50, and cover entry for 2 adults and 2 children or 1 adult and 3 children.
Tickets are available for purchase through Moshtix.
The full music line up is expected to be announced in late January 2012.
For further information and a full list of breweries involved: Visit www.swbeerfest.com.au or contact Chloe Krushka, Event Publicist ckrushka@buzzmarketing.com.au 0439 762 524