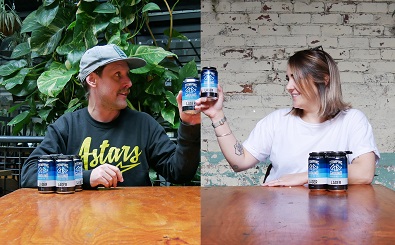 As this extended period of semi-lockdown starts to grate, in stomp the Stomping Ground crew to ensure people can still have beers with their mates and help a great cause at the same time.
Melbourne's Stomping Ground Brewing Co has launched the 'Share 8 with a m8' campaign on its new online beer store ahead of mate day on May 8.
The basic premise of the campaign is people can purchase an eight pack of beer before May 1st and Stomping Ground will send four of the cans to the nominated mate (Melbourne metro only) along with a personal message in these isolating times. The idea then is for the mates to catch up online on May 8 and connect over a beer or two. And $1 from every eight pack sold will go to Beyond Blue to support their efforts.
"I think we all know that there are a lot of people stuck at home currently, and feeling more isolated than ever," says Stomping Ground's co-owner Steve Jeffares.
"We felt May 8 was a day that was appropriate to celebrate and people could find a reason to catch up with a mate and deliver a random act of kindness."
This isn't Stomping Ground's first act of charity in recent times. Among the many initiatives it has been involved with, it has joined up with brewer's across the country for the Good Beer Co's 'A good beer always helps' campaign. The initiative allows people to donate a four pack of beer to essential workers who are on the front line during this pandemic.

Other participating brewers are: Newstead Brewing and Sobah in Queensland, Modus Operandi in NSW, Capital Brewing in the ACT, Van Dieman and Moo Brew in Tasmania, and Sparkke in South Australia.
Contact Beer & Brewer by clicking here to share your news and views.