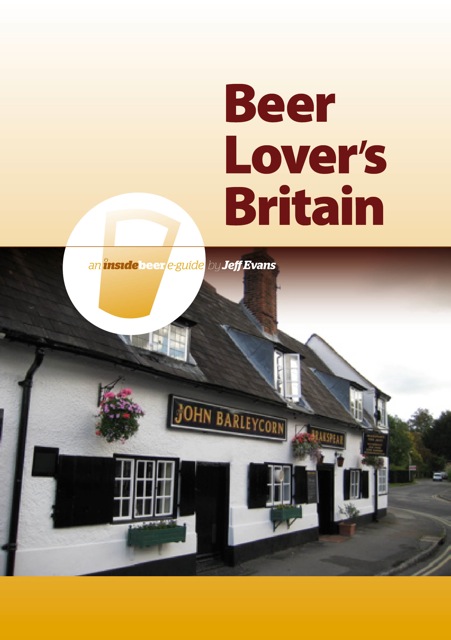 Beer Lover's Britain, a comprehensive guide to enjoying beer in the United Kingdom, is now available in Kindle format, published by insidebeer.com. Written by award-winning British beer writer Jeff Evans, the thoughtfully-compiled e-book unravels the mysteries and wonders of the great British pint and the glorious pubs in which it can be enjoyed.
With The Queen's Diamond Jubilee and the Olympic Games providing the high spots of the British summer, there's never been a better time for beer fans to come to the British Isles and check out what they have to offer, especially with this up-to-date, authoritative publication to guide them through.
British pubs are often spoken of as 'the envy of the world', with their historic charm and embracing conviviality, and Beer Lover's Britain reveals how to make the most of them with tips on everything from which type of pub will suit you best to how to order a pint. Essential information on pub food, games, gardens, opening hours, children's facilities and entertainments is also provided, along with recommendations for the very best pubs to visit around the UK.
The British brewing industry – father of such beer styles as pale ale, IPA, stout, porter and barley wine – is explored in just enough detail for visitors to understand the context of what they are drinking, with recommendations provided for beers and breweries to seek out as they travel around the country.
What is real ale? Where can I find it? Should my beer be warm? Have I been overcharged?What can I eat? Where should I stay? These are just some of the questions Beer Lover's Britain answers in more than 30,000 well-researched words.
According to author Jeff Evans, travellers are often baffled and a little intimidated when they first encounter British beer and the British pub. "The British pub is quite unlike many pubs and bars found elsewhere in the world and visitors can be more than a little confused if they don't know the procedures and etiquette," he explains. 'Beer Lover's Britain aims to demystify the pub and the British beer scene for travellers from other countries by offering sound advice and handy hints to smooth the course of their travels and boost their enjoyment of British beer."
Beer Lover's Britain can be purchased online at Amazon's Kindle store. The book can also be read using free Kindle downloads for iPad and both PC and Mac computers.
Provided by Inside Beer