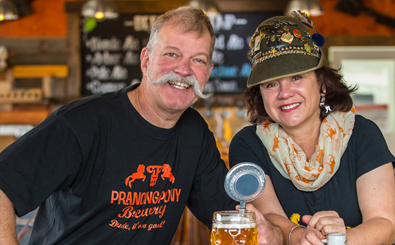 The State Coordinator of South Australia has issued a new Direction that now aligns restrictions for breweries with those for pubs and hotels.
The new Direction means that breweries, wineries, distilleries and cellar doors can sell alcohol, food and other products on a takeaway basis from their premises.
The announcement follows a complaint made by Prancing Pony Brewery in the Adelaide Hills. The brewpub's takeaway and drive-thru business was closed by police on Thursday 9 April, who stated that the Prancing Pony fell under the Emergency Management (Non-Essential Businesses and Other Activities No 3) (COVID-19) Direction 2020.
This Direction was made under the Emergency Management Act 2004 to limit business activities to certain wineries and cellar doors.
"It needs to be emphasised that these Directions have been put into place after extensive consultation with the chief public health officer and are made with the aim to prevent the spread of COVID-19, ensuring that the South Australian Health System has the capacity to care for those affected," South Australia Police (SAPOL) said in a statement.
That Direction has now been revoked and replaced by the Emergency Management (Non-Essential and Other Activities No 4) (COVID-19) Direction 2020.
This new Direction came into effect on 15 April 2020 at 11am.
"Thank you everybody for your support over the last few days, it's been a stressful time, but it seems that it was worth the fight," says Corinna Steeb, co-founder of Prancing Pony.
"We have been informed this morning from the assistant police commissioner that some of the restrictions have been lifted and that we can go back to trading as we have, before the Directive was issued to us.
"For our business, it means that we can go back to offering a drive-thru service for beers and food, and people are allowed to be served from these premises again.
"We are happy that the directive on wineries was lifted also and that this now brings wineries and breweries in line with cafes, restaurants and other venues that can now go back to serve take-away food and beverages to their customers.
"For us, it also means that we can continue serving growlers to customers. We have a shipment of 1,200 two-litre growlers on order. They arrive in about 10 days and we ordered them before we had to close.
"We are totally relieved and we are happy that we can return to some form of normality and our staff can focus on the task ahead of selling beer and food and other goodies to our customers.
"We also thank our locals and the greater local community who have backed us and send messages of well wishes and have sent letters to their local representatives in Council, State Parliament and Federal Parliament."
"We thank our supporters who stood beside and behind us, who have ordered food and beers and have gone out of their way to help us."
Tastings of any kind are not permitted and consumption of any produce, alcohol or food is not permitted on-site.
Social distancing restrictions for people attending these venues remain unchanged and must be complied with.