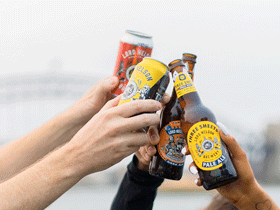 For almost 180 years, The Lord has been a part of the fabric of Sydney. For almost 40, we've been crafting brews and we want to keep crafting them for years to come!
The Lord Nelson Brewery Hotel is Sydney's oldest continually licensed hotel, located in the historic Rocks precinct and home of Australia's oldest pub brewery. It is part of the rich fabric of Australia's history and located in the historical heartland of Sydney.
The Lord is world-renowned for its architecture, ambience and ales as well as it's 3 glassed wine list, food and accommodation. Today it is both an institution and a treasure, rich in the stories of our past and our present. When you walk into The Lord you feel it straight away. An energy, warmth and heritage that pervades the space and entices you to linger and linger.
It's a challenging time for us and our industry with the closure of hospitality venues across the country. Be part of keeping The Lord afloat during this difficult time.
If you can, please support local, support independent and buy your brews from the source. We'll even hand deliver them locally (social distance observed) with the aim to keep you well stocked in froths for months to come.
So, pick up a couple cases direct from the source or get them delivered to you today!
CONTACT DETAILS
(02) 9251 4044
hotel@lordnelson.com.au
lordnelsonbrewery.com.au
Facebook/ Instagram: @lordnelsonbrewery
Twitter: @lordnelsonbrew