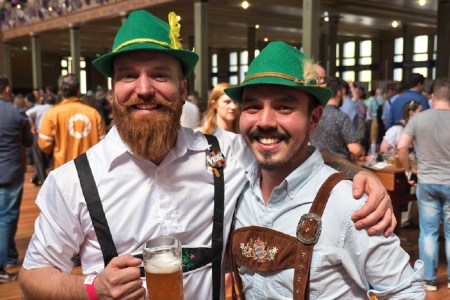 By Andy Young, TheShout
Last year saw the launch of the Royal Melbourne Oktoberfest, and following the success of that event the program is being extended in 2018, with the first Royal Sydney Oktoberfest set to take place.
The event aims to bring a traditional Oktoberfest to those attending, with Sydney's Australian Technology Park set to be turned into a German 'wunderland' as it plays host to the event. There will be over 50 different imported German beers available, and this Oktoberfest will be the first in Australia to feature five of the six Munich Oktoberfest Breweries and will have the most German beers under one roof anywhere in Australia.
The Sydney event will take place on Saturday, 15 September, while the Royal Melbourne Oktoberfest, which sold out last year will take place a week later on 22 September.
The event's organiser's said: "Since the early 1800's, Oktoberfest has been the world's largest Volksfest, or Beer Festival, and to celebrate over 200 years of fun, Royal Sydney Oktoberfest will see lederhosen clad partygoers shouting Prost from the top of their lungs in 2018.
"Taking place at Doltone House, Australian Technology Park, Eveleigh, this incredible building rivals the great Bavarian beer halls of Germany and will play host to the most traditional Oktoberfest event Sydney has seen, with German oompah bands, folk dancing, on-stage competitions and an atmosphere that is guaranteed to be electric.
"Royal Sydney Oktoberfest boasts a drinks list that will have even the most avid connoisseur licking their lips with the 2018 event featuring over 50 different imported German beers, plus cider, wine, schnapps, popular spirit mixers and much more."
The Royal Melbourne Oktoberfest takes place at the Royal Melbourne Exhibition Hall and both events feature two sessions with each having a day and evening session.