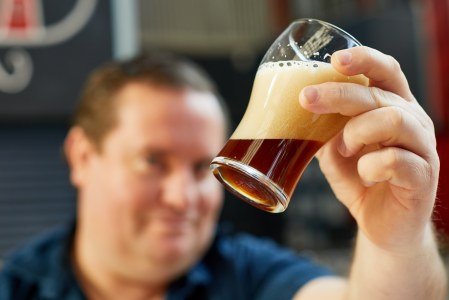 WA's Lily Kerr has won the Little Home Brewers competition and will now have her beer brewed at the Little Creatures brewery and sold at November's Freo BeerFest.
New to home brewing, Lily used her natural creativity and extra time at home to develop an innovative and fresh concept beer that impressed the judges – Little Creatures' head brewer Russ Gosling and innovation brewer Matt Jessop (pictured).
Her winning entry was the Grass Head American Pale Ale that incorporates lemongrass and ginger.
Gosling said hers was the overall standout as it "was very innovative with the use of ginger and lemongrass and also it is a very well made beer that is extremely well integrated and very refreshing".
Out of 10 initial finalists, Lily's winning entry went up against WA's Kramen Wiltshire's creation Sinful Scarlett – a tropical American amber ale using strata hops – in a top-two, winner-takes-all taste test that was scored on appearance, aroma, flavour and finish.
Gosling said Wiltshire's amber ale "was very unusual with the use of raspberries… which works very well".
Contact Beer & Brewer by clicking here to share your news and views.