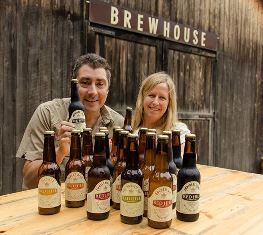 David and Karen Golding
After a two and a half year hiatus, Karen and David Golding have re-opened theRed Hill Brewery bar to the public.
"We have made a few changes this year and are pleased to be able to welcome everyone to visit the brewery any Friday, Saturday or Sunday 11am-7pm," said Karen.
"We have five of our beers on tap to enjoy, all brewed in our Red Hill brewhouse. With something always on the handpump, and other specialties often hard to find, such as the barrel aged range of beers and Christmas Ale, it's always a treat to drop in for a quiet pint. In addition, all the famous special events will continue throughout the year."
When it comes to food, Red Hill Brewery brings a modern food concept to the Mornington Peninsula through their pop-up kitchen.
"Joel and Gill from modern Mexican hotspot Manzana in Mt Eliza are running our summer pop-up kitchen at the brewery," said Karen.
"Expect fresh fun and fast beer-friendly street food. Focus will be on their modern Mexican flavours such as tacos, along with other tasty snacks to enjoy with your pints including gourmet burgers and hotdogs."
Red Hill Brewery is located at 88 Shoreham Rd, Red Hill South, Victoria.