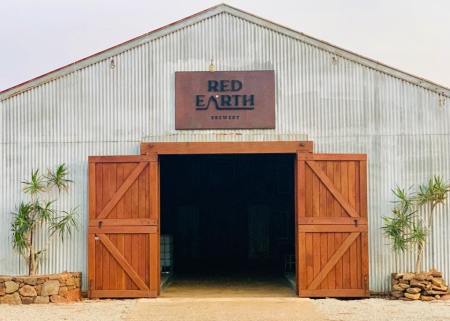 A new brewery in northern New South Wales has celebrated its first financial quarter.
Red Earth Brewery was founded by Liz and Marty Hanna on their avocado and small crop farm at Cudgen, near the coastal town of Kingscliff. It is located three kilometres from the beach and is overlooked by Mt Warning.
The brewery features a 1,000L brewhouse, three 2,000L fermenters, four 1,000L fermenters and four 500L fermenters.
There is a venue also located in the shed, with beers poured directly from the 500L fermenters.
The pair actually conceived of the idea back in 2017, but went to the council first to lay out their plans and ensure that everything would be approved before throwing money at it.
"It's prime agricultural land, but we were looking at ways to create another income stream on the farm," Liz tells Beer & Brewer. "When we looked at all the different things we could possibly do here, we ended up thinking, 'well, let's take a shot at brewing in our packing shed'."
"They [the council] were supportive, and I had to write out our Development Application. That was quite a lengthy process. And then we followed through with actually building it.
"That was another year doing that, with my husband continuing to work full time. We just chipped away doing everything we could. We had quite a number of local friends help us out as well."
Having built the brewery from scratch and opened in November 2019, the pair sought out partners to help with the running of the business. Three partners bought in a 50% stake, including head brewer Zeke Hower, previously of Stone & Wood.
"We thought we needed to step back," continues Hanna. "It had consumed two and a half years already. It turned out to be good time – three young fellas came to us to see if they could buy in."
The brewery's closest neighbours are Black Hops, Stone & Wood, Burleigh Brewing, Black Hops and Byron Bay Brewing, as well as Scenic Rim brewery at Mount Orford.
"They've just been so helpful," says Hanna. "It's what we loved about the industry. Both my husband and I come from a background in aviation and and he's still flying – he's a rescue pilot in Brisbane for Queensland Government Air."
The brewery is not yet packaging its beer and is instead more of a destination brewery, receiving considerable local support.
"Our opening day was a bit of a surprise," says Hanna. "We just got so many people in, it just got jam-packed.
"It was great that so many people came out to support us and it's been a good steady period through the traditional high thirst season. It's a relatively small community, so we really keen to put our locals front and centre and make sure we keep things available to them first and foremost.
"It'll be quite small scale and actually see what goes on there. We'd like to open up an area outside in the grounds, so people can sit outside. We're just licensed for inside at the moment."