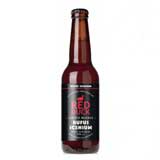 Ballarat-based Red Duck Brewery has just torn the covers of its latest limited release, the Rufus Icenium. It's a strong, celtic red ale, weighing in at a proper northlander 9% ABV.
Red Duck tells us that it's been named for the Iceni tribe, who – led by their Queen Boudicea – sought to drive the wine-guzzling Romans from their Norfolk and Suffolk homelands, and "restore peace and justice to the beer loving tribes."
The beer itself is described as big, malty, colourful and strong – and well-hopped with Glacier, which will help the beer develop further characters of dried fruit and plum with ageing – if you can wait that long before drinking it.
For more information, head along to the Red Duck Brewery website.