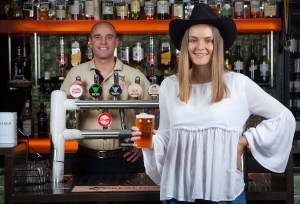 Brewers across Australia are raising money for farmers facing record-breaking conditions. 
Great Northern Brewing aims to help raise more than $1 million across three states. The brewery is donating 1,000 kegs to pubs and clubs across Queensland, New South Wales and regional Victoria for Let It Pour, a major event that will see Australians unite to help farmers.
The brewery intends to hold and support Let It Pour fundraisers at pubs in the three states from Friday August 24 to Sunday 26 August. All sales proceeds will be given to the Drought Relief Fund. The initiative, which started on 15 August, saw more 500 pubs and hotels involved just a day later.
"We are a big part of regional Australia and are going to let it pour as communities rally together to help our farmers," says Great Northern general manager Mick McKeown. "We expect pubs will join in the fun on the day. Some of our customers have been talking about bringing in local bands and hosting many other activities. Most importantly, people across the country should find a participating venue and go along to support our farmers. In coming days Great Northern will announce more initiatives to help our farmers."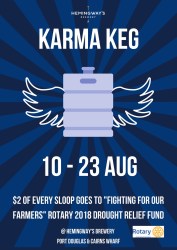 In addition, Hemingway's Cairns Wharf and Port Douglas breweries have installed a Karma Keg at both venues to raise money for farmers, with each sloop or schooner on sale for $2. The Karma Keg is a dedicated tap that will in operation until Friday 24 August and is applicable to all sloops of beer purchased.
"The farmers plight is so urgent and felt it was important for us to be doing our bit to help," says Hemingway's Brewery CEO and founder Tony Fyfe.