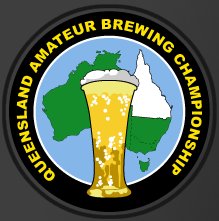 The Queensland Amateur Brewing Championship (QABC) is held as a qualifier to the Australian Amateur Brewing Championship (AABC), which is to be held in Adelaide on Friday 21st and Saturday 22nd October 2011. Entrants from the QABC and other states qualifiers who receive a 1st, 2nd or 3rd placing in any of the categories and who have achieved a minimum score of 60% will be invited to enter the National Championship (AABC).
Entries for the QABC are to be delivered to CraftBrewer & Brewers Choice stores no later than 1pm Saturday, 27th of August, so you better get moving if you haven't started brewing yet.
Only Queensland residents are eligible to enter the QABC but Judges and Stewards can be from outside of the State. The judging for QABC will be on the weekend of the 10-11th of September.
This is a call for both Judges and Stewards who will be available in Brisbane on the weekend of the comp. If you have an interest in either Judging or helping out on the day send me a PM and I'll add you to the list of potential QABC staff. If you intend on entering beers into the QABC, please let me know which styles. This is because you can only be panelled to judge categories in which you have not entered. Also please let me know what experience you have with comps so if panelled to judge I can pair you up with someone suitable.
I am looking for both experienced and novice judges / stewards who know the importance of constructive feedback and understand what the intent of providing good judging / stewarding is all about. If you're wondering what that is, well as taken from the Beer Judge Certification Program (BJCP) "To promote the appreciation of real beer and to recognise beer tasting and evaluation skills". But mostly to give competitors a non-bias review of their beers to assist in their development and/or improvement of their brewing.
Depending on the number of entries for QABC this year, we will usually complete the judging in one full day with a 8am start and working through till up to 5pm. If there are enough entries there may be further judging on the following day. Please consider these time frames if putting your name forward to assist in the comp.
Getting closer to the comp date there will be a list of Judges released and a clarification of who has been nominated for what roles. This comp is run in accordance with the rules of the Australian Amateur Brewing Association (AABC) and all entries are judged against the published AABC style guidelines for 2010-11.
For more info on the QABC go to http://www.qabc.org.au/
For more info on the AABC go to http://www.aabc.org.au/
Cheers,
Liam Ahearn
liamahearn@ymail.com