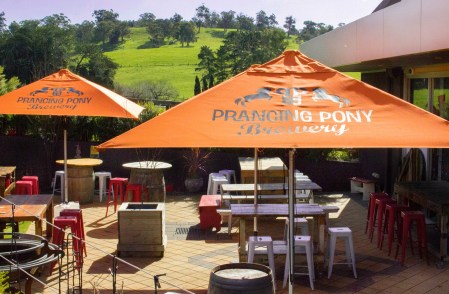 Prancing Pony Brewery has sought legal advice after its drive-through and takeaway were closed on Thursday 9 April.
The Adelaide Hills brewery was visited by police on Thursday evening and handed a directive telling it to stop its takeaway service and that no customers were allowed to enter the premises.
Like other breweries, pubs and restaurants, Prancing Pony had stopped operating as a pub when the directive to do so came into force a few weeks ago in a bid to stop the spread of COVID-19.
The brewery removed tables and chairs and started operating a takeaway and drive-through system for its beers, pizzas and burgers.
Prancing Pony currently has 26 employees and has registered with the JobKeeper program, but if this new directive continues, there are fears for jobs and ultimately the business as well.
"All that we want is to continue to generate some cash so we can keep our employees employed," Prancing Pony co-founder Corinna Steeb tells Beer & Brewer. "We have registered with the JobKeeper program but we will have to find the cash upfront."
Prancing Pony has sought legal advice from Karen Stanley of Stanley Law.
"We think our business was targeted," Steeb told ABC Radio Adelaide in an interview on Tuesday 14 April. "This was given under a blanket directive, but our business was the only one singled out. We think it's been wrongly applied."
Two weeks ago, winery cellar doors in the region were ordered to close – even for takeaway wine – following two cases of COVID-19 in Barossa, as the government sought to stop tourists visiting the areas.
This same directive has been used to tell Prancing Pony to close its takeaway business, with the police clarifying their reasons by stating that the intention was to reduce the risk that visitors might go to the Adelaide Hills and spread the virus.
In a statement, a spokesperson for SAPOL said:
"The Prancing Pony Brewery was given a direction by police to modify its business practice so that it is consistent with wineries and cellar door style businesses. These types of business are closed to the public but are permitted to sell goods, including liquor, provided it is delivered by the business or a commercial freight transporter. Take away is not permitted.
"In short the Prancing Pony Brewery can still trade but is now subject to a direction reflective of the restrictions already in place for wineries and cellar doors. The intention of these restrictions is to reduce the risk that COVID-19 is spread by visitors to these regions as occurred in the Barossa Valley last month."
However, Prancing Pony insists that that directive does not apply to them, as they are not a winery and the brewery hasn't been a tourist destination since the bushfires.
"20 December is when the tourist numbers dropped and our locals have supported us in an amazing way," continues Steeb. "We've been serving locals almost exclusively for months."
Stanley has questioned why Prancing Pony was forced to close, when other businesses remain open
"For a Direction to be lawful, it needs to be necessary to prevent the risk of the spread of the virus," she said in a statement. "The Direction to close Prancing Pony was not made under the Non-Essential Business Direction, so it is only lawful if there was something specific about the Prancing Pony that made it necessary to close it down to prevent the spread of the virus. The owners have not been given any information about why SAPOL (South Australian Police) considered the closure necessary.
"Don't get me wrong; in my view, most of the other Directions in South Australia are reasonable, proportionate and necessary to prevent the spread of the virus. But how does ordering a business to close when other almost identical businesses nearby can continue to trade, reduce the risk of the virus spreading?
"How is a brewery in the Adelaide Hills more likely to spread the virus than a brewery in the city? These businesses are only open for takeaway."
On ABC Radio Adelaide, Stanley called the decision "unfair and wrongly applied", and Prancing Pony has written to the South Australian Premier Steve Marshall about the matter.
"I don't want any other brewery to have to close their doors either, but as far as we can tell, all breweries are still doing takeaway beers and food," Steeb tells Beer & Brewer. "Those with taprooms had to close just like all restaurants and we can all deal with that for a while, but to close our takeaway and drive-through was overstepping the directive and it was targeted to our business under a reason that is unacceptable to us.
"My question to the Premier is why would you target a business and take away its opportunity to keep 26 people in jobs with a directive that does not apply to our business? Why can similar businesses still operate, even in the same region? When will this directive and this decision be reviewed? And on what advice was this directive issued?"