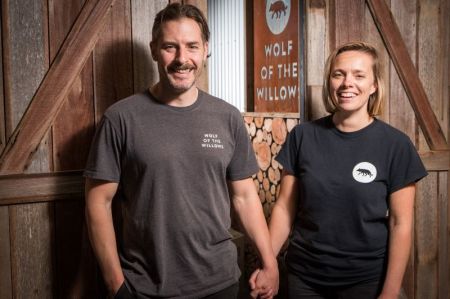 Their brewery might not be named after the American author Tobias Wolff but Mordialloc's Wolf of the Willows' year certainly reflects his poignant phrase as they celebrate the long-awaited opening of their taproom today.
Wolff once said: "We're made to persist. That's how we find out who we are". And after plenty of persistence (their new release goes by the same name – see below) and self reflection, and because Victoria is beginning to emerge from lockdown, Wolf of the Willows' husband and wife team Scotty and Renae McKinnon (pictured above) finally get to share their brewery experience that has been a long time in the making.
Originally co-habiting in Cheltenham with Bad Shepherd from 2015, the McKinnon's settled on the Mordialloc location in September 2019 where they would be able to expand production and finally create a space to welcome guests that was a true reflection of the spirit of their brewery.
But as it did for so many, COVID and its subsequent restrictions on the hospitality industry put a halt to their plans of opening earlier this year.
"I think, without shouting it out and making it sound clichéd, for us, we have had a subtle message of 'persistence' with our staff and our mates as we've faced everything 2020 has thrown at us. A little bit of nose to the grindstone doesn't hurt anyone," Scotty said.
"But we count our lucky stars. We've got mates who are artists – whether that's performing artists, creative artists or musicians – and they've just had nothing this year. At least we've had a focus to open the venue and keep the brewery ticking along. So we count ourselves as very much in the lucky camp."
With the added time Victoria's extended lockdown afforded them, the McKinnon's were able to "polish" the new venue, even extending the original plans of their outdoor area to accommodate a greater number of patrons.
"Scotty and I basically designed it all but we had a lot of family and friends involved in building it," Renae said, adding the couple's children even picked up paint brushes at times.
"And we couldn't have done it without them. My father's an electrician, Scotty's father is a builder, so they were able to come down and do a day here or there and help us.
"We always had the outdoor area but when the news came that there would be greater emphasis put on outdoor seating we went to council and the VCGLR (Victorian Commission for Gambling and Liquor Regulation) straight away. They turned it around so quickly and we're now allowed to seat 70 people outside. We went further into our carpark and our driveway than we originally planned. So it's a bit of a blessing in that respect."
That outdoor beer garden, featuring locally made picnic tables and umbrellas, is looked over by a massive mural by local artist Digable Goods that showcases the brewery's fun side that up until now has only been witnessed via a bottle shop fridge or a venue's taps.
"People drink beer with people," Scotty said. "Can art, and more broadly marketing, is always great to get people to pick your beer up off a shelf. But to actually have people in your venue, that is basically like an extension of us, is where we always wanted to be.
"Hopefully people enjoy that – not only the visual aspect of it but also the family nature of it as well. That's a pretty special feeling to be frank. It's kind of like a house warming but one where you've built the house and taken items from your past and placed them in it.
"Some of the stuff is recycled timber from a 100 year old hay shed off my family farm and there's timber from where the fires went through Cobrunga (near Omeo) last Summer on a mate's farm.
"It's pretty hard to put into words what the feeling of this is like. I think there will be a certain little tear shed at some point tonight just thinking about what has gone on this year for everyone and what we have poured into this venue."
The taproom has 18 rotating taps that will feature their core range as well as seasonal and limited releases – including the Persistence – Rye Barrel-Aged Imperial Stout detailed below. They're also planning to open with their house made hard seltzer range on tap and their cold drip nitro coffee. This is in conjunction with a modern, locally crafted wine list and an Australian artisanal spirits range, including vertical tastings of Lark Distilleries annual 'Wolf Release' Single Malt Whiskys.
"We've got a few tricks in the bag we've been hoarding away but we've kind of realised that we need to pump out more limiteds to sustain our venue," Scotty said.
"We will throw other people's kegs on and showcase what the Australian craft beer industry can do as a whole not just what we can do. A rising tide raises all ships so we will share the love."
The taproom's opening hours are Thursdays, 4pm – 10pm, Fridays & Saturdays, 12pm – 10pm, and Sundays 12pm – 6pm.
Head here to book or for more information.
Persistence – Rye Barrel-Aged Imperial Stout (12.2%)
Wolf of the Willows, together with The Gospel Whisky, have released Persistence – a Rye Barrel-Aged Imperial Stout. It's the third beer in their Barrel Exchange Project, having previously collaborated with Lark and Patient Wolf distilleries, and was brewed using malted rye grain and specially selected dark and roasted barley and then aged for six months in hand selected rye whisky Solera barrels from The Gospel Distillery. The result is an Imperial Stout rich in rye whisky barrel-aged flavours of molasses, liquorice, dark chocolate, spices and roast. The empty barrels were returned to The Gospel and filled with a specialty rye whisky to create Persistence Rye – Imperial Stout Cask Finish to be released in 2021. The Persistence stout is available in very limited numbers in 440ml tinnies in VIC, NSW and QLD indie bottle shops. Stockists can be found on the Wolf website.