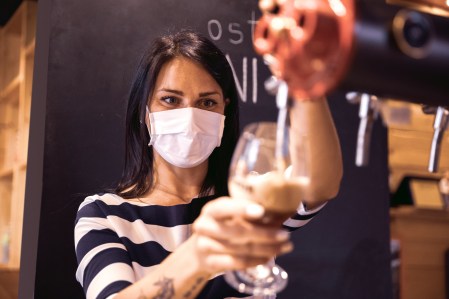 As the likes of beer bars adhere to strict COVID-19 guidelines a new campaign is now asking patrons to do their part also in the fight to keep NSW venues alive.
The Night Time Industries Association (NTIA) has launched their Check. Check. Check campaign which, like the slip, slop, slap mantra for being sun smart, encourages personal responsibility when it comes to attending venues safely in the age of COVID-19 restrictions.
The campaign is calling on younger patrons to co-share the responsibility with venues for staying COVID-safe and aims to highlight the importance of following hygiene and safety guidelines that bars have in place.
The three checks in the campaign's name refer to checking in with correct details upon entry to a venue, checking that hands are regularly washed and sanitised and checking that physical distancing is being adhered to.
"The entire mission of the campaign is to support our venues in their efforts by showing patrons the simple steps they can take to stay safe whilst still having a great night out," Michael Rodrigues, Chair of the NTIA, said.
"Keeping the nightlife industry going is critical for the NSW economy, the livelihoods of owners and employees, but also for the culture and community interaction going out gives so many people.
"Plus, the mental health benefits of keeping this industry open, for those that work in the sector and patrons alike, cannot be underestimated – let's use this campaign to strengthen the industry so it remains open for business."
The NTIA are encouraging venues to get behind the call-to-action with their patrons via a range of campaign materials that are available to share in-venue and via online channels such as social media pages.
"COVID-19 has taken a massive toll on the hospitality sector in NSW, and another lockdown would be crippling, as we've seen in Melbourne," Rodrigues said.
"There are so many venues working their hearts out to bring cultural vibrancy to our lives in this pandemic. But venues can only go so far, we need punters to know the important part they have to play so this vital industry can stay open."
You can find out more about the campaign and get involved through the Check. Check. Check. website.
Contact Beer & Brewer by clicking here to share your news and views.