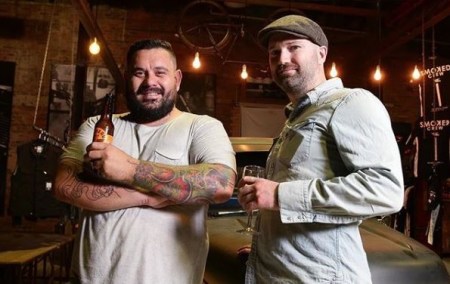 Panhead Supercharger replaced Garage Project's Pernicious Weed at the top of the GABS Hottest 100 Kiwi list for 2019.
Garage Project did secure four places in the Top 10, along with 18 other beers within the Hottest 100, the most of any brewery. Behemoth had 13 and Deep Creek had six on the list.
Two of Garage Projects Top 10 beers – Aro Street and No Dreams Til Brooklyn – were collaborations with American breweries and made to celebrate the New Zealand hop harvest. Aro Street was made with Trillium Brewery in Tinton, Massachusetts, while No Dreams Til Brooklyn was made with New York brewery Other Half.
"To me, it's a sign that the New Zealand craft beer industry is in a fantastic position," comments Craig Williams, event director of GABS Festival and organiser of the poll. "In the 'old school' beer world, mainstream brewers might only release the same four of five standard beers all year. Now you have this amazing ecosystem of hugely talented and prolific brewers pushing the boundaries of style and creativity in beer, and importantly, finding a market to support that. There really has been no better time for beer lovers to expand their horizons and really explore what's out there."
The full list of winners
Panhead SUPERCHARGER (American Pale Ale) WGN  ↑ 2
Garage Project PERNICIOUS WEED (Imperial IPA) WGN *  ↓ 1
Garage Project / Trillium ARO STREET (New England IPA) WGN * NEW  ☆
Deep Creek MISTY MIYAGI (New England IPA) AUK *  ↑ 20
McLeod's 802 #19 FRESH UNFILTERED IPA (New England IPA) NTL * NEW  ☆
Garage Project / Other Half NO DREAMS TILL BROOKLYN (New England IPA) WGN * NEW  ☆
Behemoth LID RIPPER (New England IPA) AUK *  ↓ 3
Garage Project HĀPI DAZE (New Zealand Pale Ale) WGN *  ↑ 1
Panhead RAT ROD HAZY IPA (New England IPA) WGN  ↑ 19
Tuatara HAZY PALE ALE (Hazy Pale Ale) WGN  NEW  ☆
Parrotdog BITTERBITCH (New Zealand IPA) WGN *  ↑ 8
Deep Creek BREWTIFUL HAZE (New England IPA) AUK *  ↓ 4
Garage Project PARTY & BULLSHIT (New England IPA) WGN *  ↓ 7
Funk Estate JUNGLE BOOGIE (Kettle Sour) BOP * GABS  ↑ 4
Behemoth DREAMS OF GREEN (Double New England IPA) AUK * NEW  ☆
Garage Project DFA (Specialty Beer) WGN * GABS  ↓ 14
Behemoth BRAIN SMILES (New England IPA) AUK *  ↑ 51
Deep Creek ALOHA GUAVA PASSIONFRUIT SOUR (Berliner Weisse) AUK *  ↑ 56
Fortune Favours THE WELLINGTONIAN (New Zealand IPA) WGN  ↑ 30
8 Wired iSTOUT AFFOGATO (Imperial Stout) AUK *  ↑ 9
8 Wired CUCUMBER HIPPY (Berliner Weisse) AUK *  ↓ 5
Parrotdog KEITH (New England IPA) WGN *  ↓ 7
Garage Project WHITE MISCHIEF (Gose) WGN *  ↓ 6
Garage Project TURBO FUZZ (Hazy Pale Ale) WGN * NEW  ☆
Garage Project SUPER FRESH VOL. 2 (Double New England IPA) WGN * NEW  ☆
Fortune Favours THE NATURALIST (New Zealand Pale Ale) WGN  ↑ 16
Panhead QUICKCHANGE XPA (Pale Ale) WGN  ↑ 5
JuiceHead Beer DETONATOR (American Pale Ale) WGN *  ☆
Deep Creek SENSEI (New England IPA) AUK * NEW  ☆
Emerson's HAZED & CONFUSED (Pale Ale) OTA  ↑ 35
Garage Project SUPER FRESH (Double New England IPA) WGN * NEW  ☆
Mount Brewing CRAZY HAZY DAZE (New England IPA) BOP * NEW  ☆
Emerson's ORANGE ROUGHY (Hazy Pale Ale) OTA  NEW  ☆
Garage Project GARAGISTA (American IPA) WGN *  ↓ 21
Behemoth ME TIME MOSAIC (New England IPA) AUK * NEW  ☆
8 Wired A FISTFUL OF CHERRIES (Wild Fermentation Sour) AUK *  ↔
8 Wired WILD FEIJOA (Wild Fermentation Sour) AUK * NEW  ↑ 14
Emerson's BIRD DOG (American IPA) OTA  ↑ 48
Behemoth 6 FOOT 5 (American IPA) AUK *  ↑ 6
Behemoth CHUR (New Zealand Pale Ale) AUK *  ↑ 56
Fortune Favours THE ADVENTURER (New Zealand Pilsner) WGN  ☆
Maiden Brewing MULTIVERSE PASSIONFRUIT (Kettle Sour) WGN * NEW  ☆
Duncan's RASPBERRY RIPPLE ICE CREAM SOUR (Kettle Sour) WGN * NEW  ☆
Parrotdog FALCON (American Pale Ale) WGN *  ↓ 11
Brave TIGERMILK IPA (American IPA) HKB *  ↑ 32
McLeod's PARADISE PALE ALE (Pale Ale) NTL *  ↑ 4
Garage Project SLAY RIDE (Imperial Stout) WGN * NEW  ☆
Garage Project FRESH DEC (New England IPA) WGN * NEW  ☆
Garage Project FUZZ BOX (New England IPA) WGN *  ↓ 24
8 Wired HOPWIRED (New Zealand IPA) AUK *  ↓ 11
Behemoth NORTH BORDER BRUNCH (Imperial Stout) AUK * NEW  ☆
Behemoth SNOW MEXICAN (Imperial Stout) AUK *  ↓ 47
Emerson's NZ PILSNER (New Zealand Pilsner) OTA
Epic Beer / Hallertau BABY HAZE IPA (New England IPA) AUK * NEW GABS  ☆
Fortune Favours LEEDS ST ESTATE – ROSÉ BIER (Experimental Beer) WGN  ☆
Behemoth HAZY HOLIDAYS (New England IPA) AUK * NEW  ☆
Deep Creek HAIKU (Double New England IPA) AUK * NEW  ☆
Fortune Favours THE OREGONIAN (American Amber/Red) WGN  ☆
Garage Project BOSS LEVEL (Imperial IPA) WGN *  ↓ 47
Funk Estate SOUL TRAIN PEACH TEA IPA (American IPA) BOP *
Garage Project BEER (Pale Lager) WGN *  ↑ 2
Maiden Brewing MULTIVERSE PLUM (Kettle Sour) WGN * NEW  ☆
Tuatara IPA (American IPA) WGN  ☆
Behemoth IM-PEACH-MENT (Kettle Sour) AUK *  ↓ 6
Boneface HOPTRON (American Pale Ale) WGN *  ↑ 18
Tuatara APA (American Pale Ale) WGN  ☆
Behemoth CHEECH & CHONG BLAZY IPA (New England IPA) AUK *  ↑ 26
McLeod's TROPICAL CYCLONE DIPA (Imperial IPA) NTL *  ↑ 24
Maiden Brewing MULTIVERSE PEACH (Kettle Sour) WGN * NEW  ☆
Garage Project DAY OF THE DEAD (Specialty Beer) WGN *  ↓ 15
Garage Project FRESH FEB (New England IPA) WGN * NEW  ☆
McLeod's 802 #20 FRESH UNFILTERED IPA (New England IPA) NTL * NEW  ☆
Epic Beer HOP ZOMBIE (Imperial IPA) AUK *  ↓ 63
Funk Estate COSMIC HUSTLE (Kettle Sour) BOP *  ☆
Mount Brewing BLACKBEARD COFFEE STOUT (American Stout) BOP *  ☆
Tuatara ROUGHNECK (New England IPA) WGN  NEW  ☆
Alibi KISSN' COUSINS' (New England IPA) AUK * NEW  ☆
Mount Brewing MERMAIDS MIRTH (American Pale Ale) BOP *
McLeod's 802 #15 FRESH UNFILTERED IPA (New England IPA) NTL * NEW  ☆
Garage Project CEREAL MILK STOUT (Sweet Stout) WGN *  ↓ 46
Panhead PORT RD PILSNER (New Zealand Pilsner) WGN
Sawmill JUICEBOX EAST COAST IPA (New England IPA) AUK *  ↑ 3
Tuatara AOTEAROA PALE ALE (New Zealand Pale Ale) WGN  ☆
Garage Project FRESH NOV (New England IPA) WGN * NEW  ☆
Lakeman CRAZY HAZY IPA (New England IPA) WKO * NEW GABS  ☆
Maiden Brewing MULTIVERSE KIWIFRUIT & LIME (Kettle Sour) WGN * NEW  ☆
Sawmill HAZY PALE ALE (New Zealand Pale Ale) AUK * NEW  ☆
Funk Estate B-BOY MANGO TEA SOUR ALE (Kettle Sour) BOP * NEW GABS  ☆
Garage Project FRESH JUN (New England IPA) WGN * NEW  ☆
Parrotdog DEADCANARY (New Zealand Pale Ale) WGN *
Garage Project LA CALAVERA CATRINA (Specialty Beer) WGN *
Boneface UNIT (New Zealand IPA) WGN *  ↓ 10
Maiden Brewing MULTIVERSE BLANC (Hoppy Sour) WGN * NEW  ☆
Behemoth DUMP THE TRUMP (American IPA) AUK *  ↓ 87
Epic Beer ARMAGEDDON (American IPA) AUK *  ↓ 69
Behemoth SO JUICY RIGHT MEOW (Double New England IPA) AUK * NEW  ☆
Parrotdog COLIN (American IPA) WGN *  ↓ 67
Urbanaut COPACABANA BRUT IPA (Brut IPA) AUK *  ↓ 41
Boneface MEGA UNIT (Double New England IPA) WGN * NEW  ☆
Deep Creek WISDOM IPA (American IPA) AUK * NEW  ☆
Key
↔ Maintained position from 2018
↑X Up X places from 2018
↓X Down X places from 2018
☆ First Hottest 100 appearance
* Brewed by an independently owned brewery
NEW Brewed for the first time in 2019
GABS A 'Festival Beer' brewed especially for GABS Craft Beer & Cider Festival