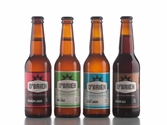 Gluten-Free brewers O'Brien Beer have plenty to celebrate in the wake of achieving a first for any brewery in the world. At the 2013 AIBA they were awarded a hard-won Gold Medal for their first ever Limited Edition brew – O'Brien Belgian Ale – which made history by becoming the first ever gluten-free beer to score Gold at the illustrious competition.
And so, to celebrate, the team have released a distinctly wintery follow-up to their Belgian brew – a Black Lager.
The perfect winter beer for gluten-phobes and philes alike, the brew pours a deep ruby-black in glass, while specialty roast sorghum and millet malts give the beer an aroma of roast coffee and a rich chocolate flavour on the palate. The malts are balanced with Noble hops, giving the brew an array of floral and spicy notes.
Chatting with Beer & Brewer at Good Beer Week – in the wake of the success of the Belgian Ale – brewer and founder John O'Brien confided that there was a lot more to the beer than meets the casual observation. Unlike other brewers that can order specialty malts from suppliers, O'Brien Brewery has to roast all of its own grains, making sure they meet exacting standards before then creating the sought after gluten-free limited editions. It is an amazingly complicated task, making the Gold Medal all the sweeter.
Brewery manager Andrew Lavery concurs, noting the extra time and care taken to create the necessary ingredients for the 5.3% ABV Black Lager.
"O'Brien Black Lager is made using the same process as our other beers, but we devote more time to roasting the malt," he says. "I'm really happy with the rich colour and the chocolate and coffee notes, which give a wintery depth that's perfectly balanced with the spice and clean lager finish."
O'Brien Black Lager is available from good craft beer retailers for $30/six-pack.