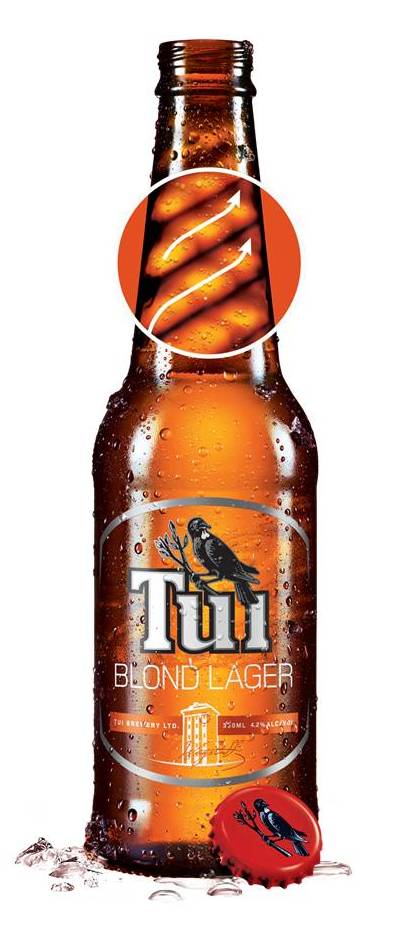 DB Breweries and O-I unveil the first application of internal embossing in New Zealand
AUCKLAND, New Zealand (Thursday, 9 June, 2011) – The world's leading glass packaging
maker, O-I, has partnered with Champion Brewery, DB Breweries (DB), to launch New
Zealand's first application of internal embossing.
O-I's new and unique internal embossing technology enables grooves on the inside of glass
bottles, creating distinctive decoration while providing a smooth exterior for easy labelling.
DB is using the new internal embossing design called Vortex™ on the brewer's Tui Blond Lager
bottle from this month. Globally launched with Miller Lite beer in the United States last year, the
Vortex™ bottle features distinctive grooves in the bottle's neck and was credited with improving
Miller Lite's bottle sales by 6%, a significant margin in the highly competitive beer industry.
The Tui Blond Lager Vortex™ bottle is being manufactured at O-I's Auckland plant and a range
of internal embossing designs are available to customers wishing to explore this unique
branding opportunity.
"The launch of this unique bottle technology demonstrates the eagerness of companies to
embrace innovative ideas to create stand-out packaging in competitive markets," said O-I New
Zealand's General Manager, Stephen Bramlage.
"Not only was DB first to introduce black glass to the New Zealand market with its popular
Monteith's Single Source brand last year, it is the first company in the country to use internal
embossing. This once again underlines DB's leading approach to innovative packaging."
The new-look Tui Blond Lager will further build on its success and increase brand awareness
with a unique point of difference said, Tui brand Manager, William Papesch.
"Tui Blond Lager is a successful addition to the Tui brand and has extended the brand's
footprint remarkably over the past couple of years," Mr Papesch said.
"We have revitalised the brand's appearance and the innovative new Vortex™ bottle will further
evolve the Tui Blond Lager brand into a more relevant and contemporary offering."
To support the launch, Tui has developed a new television commercial (TVC) highlighting Tui
Blond Lager's innovation and awards.
"The TVC is a continuation of the brewing legends campaign. The commercial sees the boys at
the Mangatainoka brewery getting a detailed explanation of the new Vortex™ bottle from a
female brewer. Just like the bottle, this TVC is going to be a massive talking point."
For more information on Tui Blond Lager visit www.tui.co.nz.
™ Vortex is a registered trademark of Owens-Illinois, Inc.
O-I Company Profile
Owens-Illinois, Inc. (NYSE: OI) is the world's largest glass container manufacturer and preferred partner for many of the world's leading food and beverage brands. With revenues of $6.6 billion in 2010, the company is headquartered in Perrysburg, Ohio, USA, and employs more than 24,000 people at 81 plants in 21 countries. O-I delivers safe, effective and sustainable glass packaging solutions to a growing global marketplace. For more information, visit www.o-i.com.