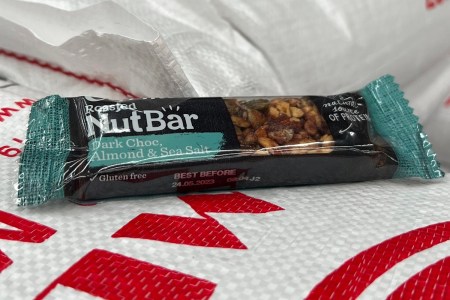 The tough manual task of unloading a pallet will soon come with added incentive for Australian brewery employees.
For more than 20 years, leading American brewing ingredients supplier BSG has rewarded its customers' team members by hiding a nut confectionary bar in each one-tonne pallet of ingredients.
And Bintani is now re-imagining the tradition for the Australian industry in partnership with the much loved and independently owned muesli bar producer Carman's Kitchen.
From April 3 Bintani will be hiding a Carman's Dark Choc, Almond and Sea Salt Roasted Nut Bar in each pallet of ingredients shipped from its warehouses around Australia.
Bintani's head of marketing Louise Schirmer said she had noticed brewers speaking with reverence about the nut bar tradition ever since joining the business in August 2021.
"I wondered why we weren't doing something similar, as it seemed like such a great way to recognise the team that do the hard manual work of unloading pallets," she said.
Schirmer said Bintani had decided to bring the nut bar tradition to Australia, in a sustainable way, with a local twist by partnering with Carman's.
"They are Australian and independently-owned with a strong emphasis on health and sustainability, and they are based in Huntingdale, just seven kilometres away from our head office and warehouse in Moorabbin," she said.
Carman's introduced the salty and sweet Dark Choc, Almond and Sea Salt Roasted Nut Bar to its range in 2022.
"The Carman's food technologists selected it as the best accompaniment for a wide range of beer styles," Schirmer said.
Carman's founder Carolyn Creswell said the company is excited to partner with another Australian-owned business that also understands the vital role of ingredients in creating high quality food and drink.
"At Carman's, we believe food should come from the kitchen, not the chemist. We believe in being proud of our ingredients with no need to hide them in fine print," she said.
"We believe nuts and seeds enrich our wellbeing and we are excited to bring a little delight to brewers around Australia with our delicious nut bars."
Brewery workers who successfully find a Carman's nut bar are invited to share the spoils on social media using the hashtag #bintaninutbar and tagging @bintaniaustnz and @carmanskitchen on Instagram as well as @bintaniaustralia and @carmanskitchen on Facebook.
This is a media release distributed by Bintani.