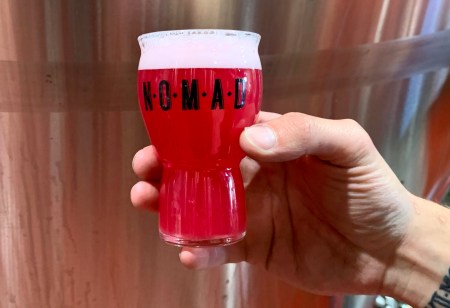 As part of an international celebration of 10 years of the beer networking site Untappd, Sydney's Nomad Brewing Co will release a new beer and host a launch party at their Brookvale brewpub this Friday (October 23).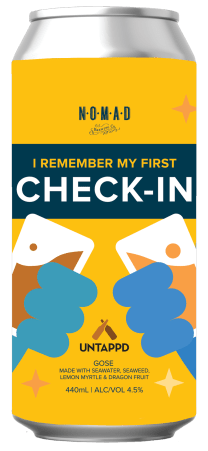 To mark the anniversary, Untappd and Delaware's Dogfish Head Brewery collaborated on the 'I Remember My First Check-In' sour beer and invited the global brewing community to do the same with the same base recipe. The concept encourages participating breweries to utilise locally sourced ingredients to support their local craft beer ecosystem.
Along with fellow NSW brewery Tumut River Brewing Co, Nomad have joined (currently) 101 other breweries worldwide in taking part. They've gone back to their roots for their own 'I Remember My First Check-In' sour (pictured above).
They have created a version of one of the first beers they ever brewed – the Freshie Salt and Pepper Gose.
Taking advantage of the pristine beaches in their backyard, Nomad sourced the principle ingredients from the sea. They collected sea water and seaweed and, combined with local lemon myrtle and dragon fruit, to create a bright and vibrant Gose style sour beer (4.5%) that celebrates both Untappd and Nomad's own terroir.
Nomad will host the launch party of their 'I Remember My First Check-In' sour this Friday (Oct 23) from 4pm AEDT at their brewpub at 5 Sydenham Rd, Brookvale. Check their Facebook page for further details. The beer will be exclusively available at Nomad this weekend and will then be available the following week in keg and can.