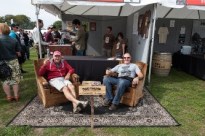 New Zealand's The Great Kiwi Beer Festival returns to Hagley Park on 29 March for its fourth year, with 50 craft breweries and cider producers taking part in the day-long celebration of the country's ever popular craft beer industry.
Combining more than 300 brews on tap and 40 gourmet food producers the festival will feature many gastronomic delights, as well as a Craft Beer Academy, cooking demonstrations, and a home brew competition.
A popular live music line up returns this year, with 80s new wave band Pseudo Echo, legendary Kiwi rockers Hello Sailor, supported by the likes of Sola Rosa, Thomas Oliver and Summer Thieves.
The Great Kiwi Beer Festival has been praised for its focus on the responsible enjoyment of beer. Beer writer Geoff Griggs considers it to be the best in the country, saying that while it is ultimately designed to be a fun day out, "the event goes far beyond that with a strong emphasis on beer education".
The festival has seen strong growth in popularity, which festival director Callam Mitchell attributes to the growth of the country's craft beer sector.
"Every year we have a greater number of craft breweries applying to exhibit at the festival, from the founding fathers of the craft brewing scene through to guys who started out with a batch of home brew in the garage".
Tickets are on sale here. For more information, click here or go to The Great Kiwi Beer Festival Facebook page.
Written by Caitlin Burns