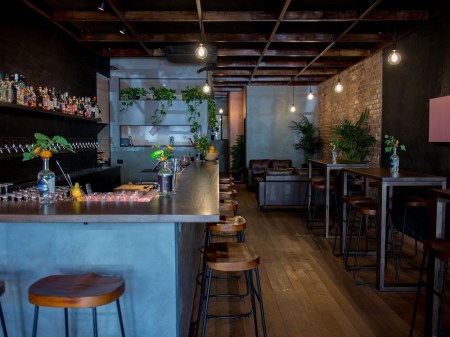 A new bar, Bonny, serving craft beers, cocktails and natural Australian wines has opened on Brunswick Street in the Melbourne suburb of Fitzroy.
The bar is the brainchild of local businesspeople, including Shayne Dixon of Beermash; Adam Betts of Edge Brewing Project, Northdown Craft Beer and Tap Smith; Mike Baker of Henry Sugar; and Sonny Rehe of Uptown Jazz Café Fitzroy.
"I became aware of the space through my business partner at Beermash (Kieran Hennessy)," says Dixon. "We took over the space at 177 Brunswick Street which used to be a Japanese restaurant called Akari which due to unforeseen circumstances had to close its doors.
"We continued for 12 months as a Japanese Ramen restaurant until we managed to get the paperwork approved for the bar license. That's when we teamed up with Adam Betts and designed and built the new bar."
Bonny's bar features 27 taps that showcase craft beers from around the world along with wines and cocktails. All the drinks offerings are on tap to eliminate potential wastage of bottles and cans, while the sodas are made in-house.
It is a 60-seat space with dark textured walls, high ceilings, New York loft glass windows and vegan leather couches. The lighting is provided by LEDs.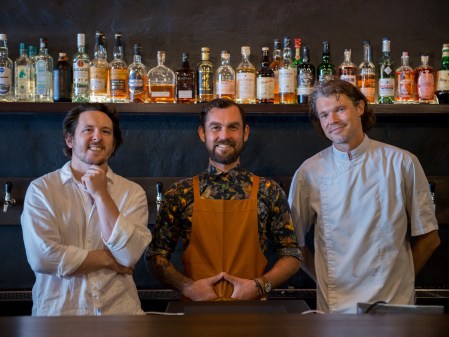 It is minimalist in design. The interior features the bar, stools and high tables crafted by local artisans Bangs Bespoke from reclaimed Victorian hardwood.
The furniture is unique and contrasts with the vintage concrete and red brick highlights in the room.
The bar manager Josh Crawford has previously worked at Vue de Monde, Mjolner, Rum Diary Bar, Boilermaker House and Loop Roof Cocktail.
The kitchen is run by the Henry Sugar team. Co-owner and Michelin-trained chef Mike Baker has designed a grazing menu inspired by Australia and Spain. Look out for the organic gluten-free crickets roasted in Australian bush spices, peanuts and lime.
"I've been managing bars since I was 19, it has long been a dream to open my own venue," says Betts. "An opportunity came late last year for me to join a lease of a ramen restaurant with a great bunch of operators. I quickly pounced on the opportunity and began designing up the plans for Bonny.
"Brunswick St is one of the most iconic strips in Melbourne, for cafe, bar and fashion culture. With the business partners all being locals (both having existing businesses and living in the area), we wanted to add a tap bar to the mix that was authentic and upmarket yet casual. A community bar for the locals to love.
"We've met our farmers, winemakers, brewers and distillers. We are passionate about sustainability, minimising wastage of ingredients, and eliminating one usage bottles and cans in the bar. For example, Josh makes his own soda and tonic waters, homemade lemonade, peach black plum hibiscus tea and stewed marmalade syrups."