Husband and wife duo, Jacob and Deb Newman, are pursuing their dream and opening Eden Brewery in Mittagong, about an hour and a half south-west of Sydney.
An avid home brewer since high school, Jacob grew up in Texas while Deb hails from Sydney, with the pair meeting in the most unlikely of places.
"Earlier this year we made the decision to pursue a dream and take home brewing to pro brewing," Jacob told Beer & Brewer.
"Starting a brewery has been a complete change of course for both of us, before this venture we spent several years working in rural Papua New Guinea as health care workers!
"It was there that we gained a real appreciation for the privilege we have coming from such wealthy countries – a driving force behind our decision to start a brewery."
Humanitarians at heart, the brewery will be environmentally responsible and a percentage of the profits will also go to those in need.
"We believe that breweries should be a net positive on the community and the world, so we will be using a percentage of our profits to provide clean drinking water for people who have none and we are also taking exhaustive measures to ensure that we are environmentally responsible," explains Jacob.
"This is where the name Eden comes in – it's a nod to our faith and a herald to the natural beauty and potential of beer."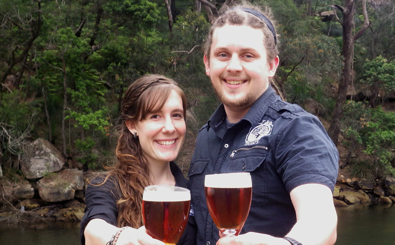 The brewery is located on Cavendish St and Bowral Rd in Mittagong and while it is still early days, they are hoping to open in March next year.
"When we do, we'll be a brewery and tasting room with a heavy focus on growler fills and local supply. As for our beers, we believe variety is the spice of life. We personally are quite fond of wheat beers and lagers, but you can definitely count on some IPAs, saisons and even porters finding their way through our taps," Jacob said.
"The common thread between them all will be that they are great beers that we love to drink."