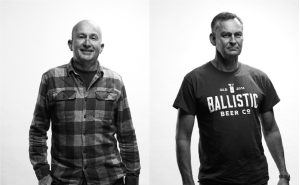 The Independent Brewers Association (IBA) has welcomed Stone & Wood's Jamie Cook and Ballistic's David Kitchen as its two new IBA board directors.
"Thank you to each of the candidates, who all submitted impressive resumes," said the IBA in a statement. "The quality of the candidates and the diversity of their backgrounds shows the strength behind our industry. We also thank all the members who voted in the elections for your continued investment in our sector's future."
Jamie Cook founded Stone & Wood in 2008 after a 36-year career in the beer industry. He has been active within the IBA since its inception and was part of the steering committee which established the CBIA.
"I've got a little more free time," says Cook. "It's the right opportunity to recognise that I've had a good life through the beer industry it's time I contributed back to it.
"It's early days, I want to get my head around the strategy the previous guys have been working on. They've built up very good momentum over the last 12 months. I don't want to see that fall away. Maintain momentum on the key initiatives, that's the first step.
"The key thing of the IBA is you've got a very fragmented industry, lots of very small brewers competing in a market dominated by big fish. Those brewers need to be working together to have a stronger voice, when it makes sense. We want a collective voice of strength to continue to grow.
"That's the key, how we add value to our members, our drinkers, our suppliers and our trade customers. Building values for brewers and each of those stakeholders."
David Kitchen has owned and operated businesses for 14 years and now operates Ballistic Brewing Co in Brisbane. He has been a leading advocate for the IBA and its Queensland members over the last six months, leading up to today's launch of the Queensland Craft Beer Strategy.
Cook and Kitchen replace Endeavour's Ben Kooyman (who was chair) and Akasha's Dave Padden (who was treasurer) after three years on the IBA board.
"We thank them for all their hard work and dedication in bringing substantial changes to the IBA in recent years," the IBA said in a statement. "We wish Ben and Dave every success with their businesses and look forward to working with our new and continuing board members."