This Western Australia Week, we'll take a look at the new beer releases from WA's breweries.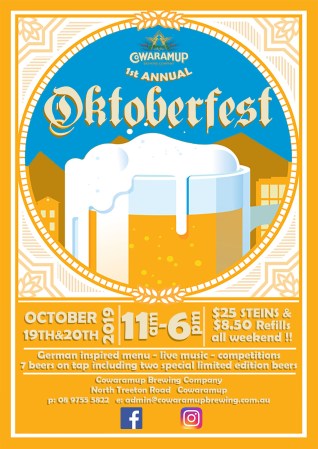 Cowaramup limited releases
Cowaramup Brewery has launched two limited release beers: Oktoberfest and Reggie Mandarina.
Oktoberfest uses Australian Ale Malt, Munich Dark, Caramel Pils, English Caramalt and Medium Crystal, and Perle hops. It has a 5.4% ABV.
Tasting notes include "a beer rich in malt with a balance of clean, hop bitterness. Bread or biscuit-like malt aroma and flavour".
Reggie Mandarina uses Australian Pilsener Malt and Australian Wheat, as well as Perle and Madanrina Bavaria hops. It has a 4.9% ABV.
Tasting notes include "a malt-driven beer that balances a pleasant malt sweetness and body with floral Noble hops and restrained bitterness with a decent aroma of tangerine/citrus".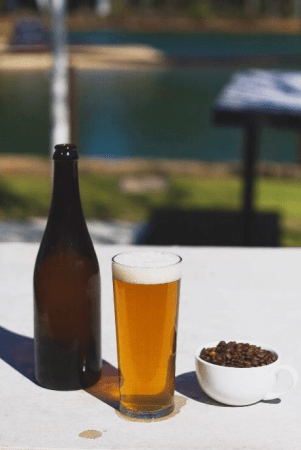 Black Brewing Co Good Morning Saison
Black Brewing Co has released a limited brew that is pouring on-tap at selected venues throughout Perth and in 750ml bottles at the Margaret River venue at Caves Road Collective.
This French-style saison uses French saison yeast and is aged for six months on Chardonnay oak with freshly roasted Colombian coffee beans that are added in the last four weeks.
"The Good Morning Saison has strong coffee aromatics with a gentle bitterness, spicy notes and a slight hint of Brettanomyces characteristics," say the tasting notes. It has a 7.4% ABV.
Beerfarm's Summer of Sours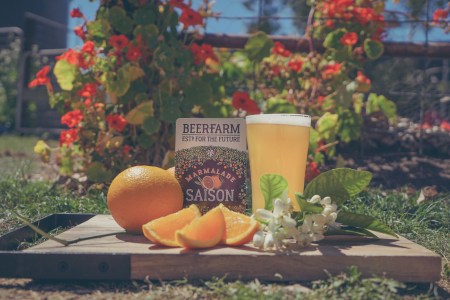 Beerfarm is announcing its Summer of Sours campaign, which will include new sour beer releases. The Strawberry Sour will be making a comeback.
"Our focus for Summer of Sours will be reducing agricultural food waste by using ugly produce in our brew/ using fruit that isn't aesthetically pleasing enough to be sold in supermarkets," says Jacinta Rets, —- of Beerfarm. "This produce may have a few lumps and bumps but still tastes bloody awesome, it just doesn't meet the customer's idea of perfection."
The brewery has also launched its Marmalade Saison and a hazy IPA called Royal Haze, which will be launched on 31 October.
Royal Haze is made with Pale Malt, Cara-Pils, Wheat Malt and Rolled Oats, as well as El Dorado, Citra and Mosaic hops.
The Marmalade Saison has a 6.5% ABV with tasting notes that include "prominent orange aromas on the nose balancing nicely with the saison yeast esters". It is made with oranges from the orange tree that grows beside the brewhouse in Metricup.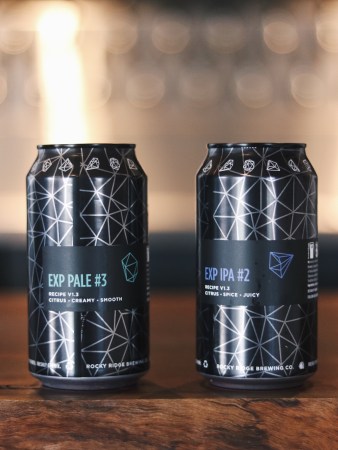 Plenty of new beers from Rocky Ridge Brewing
Rocky Ridge Brewing has released four new beers – a kviek double IPA, a milkshake double IPA, a pale ale and an IPA.
Blasta Creag, which translates to delicious rock is a kveik double IPA described as "big, bold and audacious with a firm whack of bitterness". It has a 8.4% ABV.
Imperial Shake and Bake is a collaboration brew with Perth bottleshop Mane Liquor that has been boosted from last time to feature "more fruit, more vanilla and a higher ABV". It is a milkshake DIPA.
Experimental Pale #3 is the third iteration of Blasta's Experimental Pale Ale series. It utilises kveik yeast for "not only a quick ferment but also awesome esters and a nice crispy malt profile".
Experimental IPA #2 is an IPA with a 6.5% ABV that uses 100% Australian ingredients. It is described as "juicy, dank and super drinkable… all that you could want in a classic hoppy India Pale Ale".
Beerland's new beers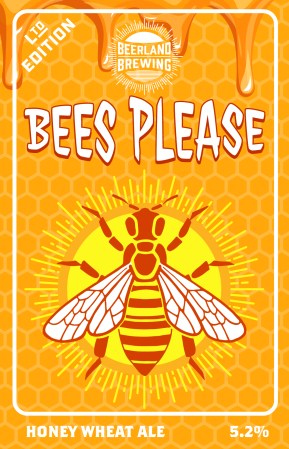 Beerland has launched a new limited edition range of beers are available at selected bars in Perth.
Bees Please uses Pilsner, Caramalt and Wheat, as well as Tattnanger and Cascade hops, before a late addition of honey to the fermenter "dries out the finish but retains a warming spice".
Destination XPA uses Pale, Wheat, Caramalt and Caraaroma malts, as well as Citra and Mosaic hops. Tasting notes include "bright stone fruit and citrus into notes of sweet nectarine".
Golden Hour Sour is inspired by BredCo in Albany and has a "rustic grain quality, gently spice and bready malts finishing with a refreshing hint of tartness". It is made with Schooner, Wheat, Melanoidin and Victory malts, and Galaxy, Styrian and Dragon hops. In addition, 100 wholemeal sourdough loaves are added to the mash.
Summer Break IPLA is a sessionable lager that uses Wakatu and Tettnanger hops before a dry hopping with Huell Melon hops. Malts used include Munich, Pilsner, Caramunich and Wheat. Tasting notes include "a bouquet of strawberries and honeydew atop this malt-forward beverage".
Nowhereman's 3 Speed Session IPA and Maracujá Sour
Nowhereman Brewing Co has launched two limited release beers.
Maracujá Sour is a gose that follows Mango Fandango Gose and Cherry Berry Sour. It is made with 100kg of passion fruit. The name comes from the Portuguese word for passion fruit. It has a 4.5% ABV.
The third beer in the brewery's ongoing IPA series is 3 Speed Session IPA. It uses three hops – Cascade, Motueka and Idaho 7 – and has a 3.5% ABV.