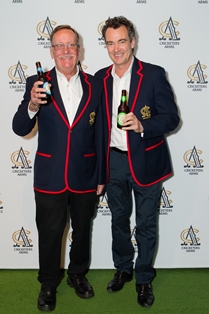 Asahi Premium Beverages master brewer Dermot O'Donnell and Cricketers Arms founder Paul Scott
Cricketers Arms bowled over the crowd of media and industry at its relaunch event this week at the Melbourne Cricket Ground, unveiling a refresh and new beer.
Created by Paul Scott in 2005 and acquired byAsahi Premium Beverages 18 months ago, Cricketers Arms has cemented a firm position as one of Australia's most loved craft beers.
"Asahi has been fantastic to the Cricketers Arms brand and myself. Their passion for making exceptional beers is second to none, review the exhaustive process they went through in the development of Asahi Super Dry," said Scott.
"Day to day nothing much has changed apart from not having to deliver kegs thus a bit easier on my back! I still worry about all the customers having enough stock on Friday afternoon and yes I still deliver on a Saturday if they have sold out!"
Along with a total refresh of artwork and packaging for Cricketers Arms, another teammate has been added to the line-up.
"Spearhead Pale Ale is the newest 'cricketer' in the team. We wanted to make a New World Pale still using our signature hop Amarillo and for the tropical finish we have added the NZ hop Nelson Sauvin," said Scott.
Originally developed in Mildura, Cricketers Arms is now brewed in Laverton, Melbourne. The Cricketers Arms' portfolio features 'Keeper's' Lager, 'Journeyman' Mid and 'Captain's' IPA, which all won bronze medals at the recent CBIA Craft Beer Awards for being unique, flavoursome, crafted Australian beers.
Scott defines the brand's essence as "honour friendships and celebrate achievements" which still rings true today.
"Cricketers Arms was inspired by watching my father and his mates play cricket and after each match, enjoying the long-standing tradition of a celebratory beer shared with teammates and opponents," said Scott.
"Craft beer to me is defined by the 'spirit of brewing' – as long as your passion is to make great interesting beers it does not matter how big or small your brewery is or how many litres you sell.
As we all want our customers drinking better beers all the time."