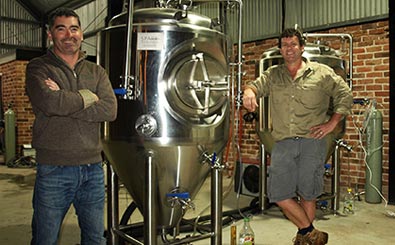 Production of new artisan beers will commence in the Southern Highlands in NSW this month, with the region's first all-beer nano-brewery, Southern Highlands Brewing Co. (SHBC) given the go-ahead.
SHBC director Ben Twomey and head brewer, Cameron (Camo) James have got the local Council's consent to operate a converted barn that sits on the Twomey family estate in Sutton Forest as a microbrewery.
According to Twomey, the process of establishing the craft brewery has been lengthy, but worthwhile.
"This day has been a long time in the coming, however like our beers, which have been 20 years in the making, we understand the finest things in life take time," he said.
"Camo and I are in this for the long haul; that's why we've been committed from day one to building strong and sustainable foundations, which means we will never brew anything but beer and we will never outsource any of our production."
Despite previous attempted microbrewery start-ups over the years, SHBC is believed to be the region's first all-beer nano-brewery, with an estimated initial annual production of just 30,000 litres; a figure Twomey expects to increase significantly within the first 12 months given early interest in the venture from local and Sydney markets.
"I grew up in the Southern Highlands and have been crafting and perfecting my beers here for nearly two decades; I see SHBC's small beers as a big win for the Southern Highlands," said James.
It's a sentiment shared by Twomey who hopes SHBC will inspire other craft breweries to follow their lead.
"We recognise the value of the Southern Highlands to Australia's regional tourism industry, which is why our beers represent both country and cosmopolitan NSW. Beer drinkers today are more sophisticated and clued up on the brewing process and want quality over quantity, this is where SHBC will stand on its own. All we brew is beer; it's grassroots and authentic, but also a little highbrow," he said.
Twomey would like to see a dedicated craft beer trail grow in the Southern Highlands and believes SHBC is well-positioned to lead the way.
"A Southern Highlands craft beer trail would not only support our business and inbound tourism, but also upstream agribusinesses; it's a winning formula and we're proud the Southern Highlands finally has a craft beer to call its own in SHBC," he said.
According to James, recent local success in growing pilot crops in Sutton Forest, has buoyed SHBC's own plans to grow hop fields.
"When you combine hops, the key bittering, flavour and aroma ingredient, that also contributes to the stability and foam in beer, with Sutton Forest's ideal cool climate conditions, it's only logical we would look to develop our own hops and, at this stage, we've earmarked August for that process to begin," he said.
With approvals for production now in hand, Twomey says SHBC can finally get on with the business of brewing.
"The barn has been totally converted and, albeit a small production facility, houses the world's finest small footprint beer making equipment from Germany and Australia; Camo's working day and night to refine his recipes for our first three launch beers, and now with this final tick of approval, we can start rolling out the brand, and most importantly, the beer!" he said.