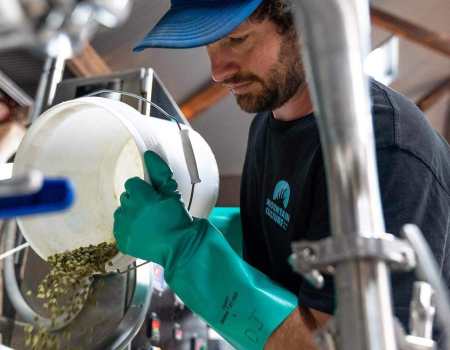 Australian craft brewery Mountain Culture Beer Co are trialling a unique hopping regime in a four-part series of limited release beers they hope will lead to the technique becoming a mainstay of their IPA brewing process.
As opposed to customary hop additions in the brewing process and during fermentation, the western Sydney-based Mountain Culture's "microdosing" concept sees them slowly adding small doses of their own hop blends every day that the four IPAs are in active production, but mostly during fermentation. The idea behind it is to activate different characteristics from the hops when the beer is experiencing the different fermentation stages of alcohol content and pH value which, they hope, will allow the hops to shine.
Psychonaut, the first in the series (which is unique in itself as Mountain Culture have never released a series of beers consecutively) was released late last week and is a classic West Coast IPA which mainly presents the dank and citrusy characteristics of Riwaka but also benefits from its blend with Citra, BRU-1 and Columbus that's been microdosed throughout fermentation.
Ego Death, the second in the series and released today, is a New England IPA that showcases the big and bold fruit-forward BRU-1 but also Mosaic, Citra and Sabro that make up the blend. The next two are due out on the coming consecutive Thursdays and will feature all-new hop blends. All four are 10.0% ABV.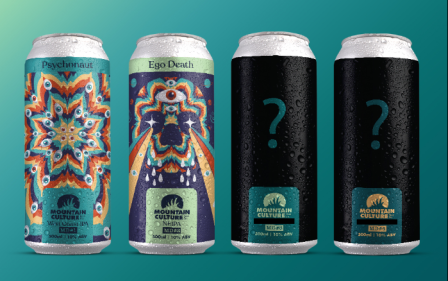 Co-founder DJ McCready told Beer & Brewer he'd had the desire to trial the concept for some time but had shelved it as the focus went on getting their second brewery up and running. But with production volume at that Emu Plains facility demanding near constant oversight the "daily dosing project" was now able to go ahead.
"(Trialling the concept) dawned on me after years of adding smaller dry hop additions (to our IPAs) but over several days (to increase hop contact).
"That was something I picked up from Russian River Brewing years ago when (co-founder/head brewer) Vinnie (Cilurzo) said how they were dry hopping Pliny the Elder and beers like that… Other US breweries (at the time) were just doing one massive dry hop addition.
"But since doing (smaller dry hop additions) from day one here we've learnt how we're getting different flavour and aromatic contributors at different alcohol and different pH ratings.
"We thought it would be cool to take that to another level and dose a smaller amount of certain hops at certain points throughout fermentation to extract different characteristics that get created by the changing environment."
Compared to say a 10.0% West Coast IPA they had brewed in the past via more traditional means, DJ said even though it was early days in its character development the microdosed Psychonaut was dishing up a "big experience".
"This may be just me, but I'm getting a more dimensional look at those flavour contributors from the hops. It just seems more complex.
"We're keen to see how the next three go and hear the feedback we get from the public. It's something that we think could become a mainstay of our entire IPA brewing process but we also want to wait and see if it's going to be worth all the extra effort.
"But so far, as we continue to dissect it, we are getting more roundness. We're seeing a little more from the hops and it's less two dimensional – it's a big experience."