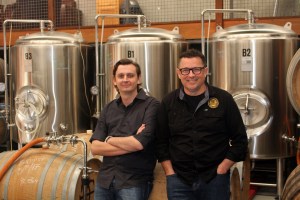 Tribe Breweries has joined with Mornington Peninsula Brewery through a partnership structure that has seen the Victorian brewery's CEO become a Tribe shareholder.
Matt Bebe, co-founder and CEO of Mornington, has become a shareholder at Tribe and will remain at the helm of the team, with all Mornington employees continuing in their current roles.
The partnership will increase Mornington's brewing capacity, allowing it to create more new brews more rapidly. For the moment, all Mornington beer will continue to be brewed at the Mornington Brewery, with Tribe ready to step in and lend its brewing capacity should more beer be required.
"Over the last year, we maxed out our brewery, but wanted to continue on the journey," says Bebe. "Joining Tribe is a great decision for Mornington as we can have our cake and eat it too; continue to be both local and independent, while also part of a larger collective group that can provide benefits across the board. We are very proud of what we have achieved at Mornington and being a part of Tribe enables us to realise our potential and future aspirations.
"We needed to look at what we needed to do to invest further. With Tribe we can expand our footprint at Mornington to deliver more of what people have come to expect from Mornington – more specialty beers. We've just finished our Squid Rising NEIPA and our Squid Supremacy is due for release in later September. We've got an Enigma gose in the tank, we've got a Brut IPA which we're going to release from stainless steel and barrel it in wine barrels from the local vineyard. It's our eighth birthday on Grand Final Day so we're going to release an 8% barrel-aged imperial brown. It's a lot of fun."
"We'd been working with Mornington as a partner brewer, so we knew the team and they knew us," says Anton Szpitalak, co-founder and CEO of Tribe Breweries. "They'd had conversations with their shareholders and were looking for that next step. We started to look more seriously at what a marriage might look like and then we had a conversation.
"Critical to process was that Matt really wanted to continue on the journey. To have Matt in the business is amazing: he's immensely respected in the industry, he's passionate about beer and he's a great guy.
"There's not really a rulebook here of how we can bring these cool people and their cool beers together. We're that cutting that path ourselves. The next six months are critical – we've got a brewery opening on Gouldburn, the international work we're doing, looking at how we can grow Mornington's part of the partnership. It's very organic. If we had a similar conversation with someone else with great people and great beer it would be possible to add to the Tribe, but it's not our focus today. The most important thing for us is giving people options at Tribe. If we bring a partnership in-house, we want to make cool new beers. That's important for us."
"If you look at Gage Road, they've bought Matso's and they're still indie, same with Stone & Wood and Fixation," adds Bebe. "You need to have that economy of scale, you need that distribution footprint, you need those things to reach potential. By joining with other breweries, there's a lot of leverage from both sides."