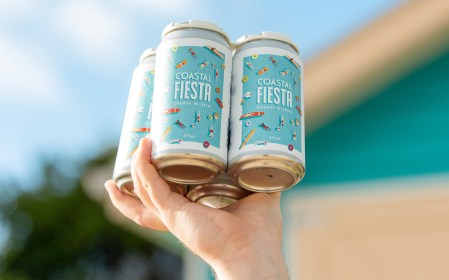 Mornington Peninsula breweries Jetty Road and St Andrews Beach have released a collaboration beer – the Coastal Fiesta Orange Witbier – to celebrate their third birthdays and long friendship.
It's available from their respective taprooms and online stores, and from select independent retailers.
Located less than 20 kilometres from each other, St Andrews and Jetty Road opened their taproom doors on exactly the same day back in December 2017 and a collaboration has been on the cards ever since.
"Over the past three years we have formed a great relationship with the team from Jetty Road. We're both at a similar stage of our journeys and it's been great to see both brands grow significantly over the past 18 months," St Andrews Beach's manager Tim Purchase said.
"Grant (Rodgers – Jetty Road's co-founder) and I chat regularly and have always bounced around the idea of coming together to brew a collaboration beer. With restrictions in Victoria starting to ease, we thought the time was right to brew a beer to not only celebrate our birthday, but provide our loyal community with an exciting new beer after an unusual 2020."
The goal for head brewers Matt Stitt (St Andrews) and Blake Bowden (Jetty Road) was to add an Aussie twist to a Belgian classic.
"Coastal Fiesta is a Belgian style Witbier brewed with orange peel and coriander seeds for those classic Belgian characteristics of citrus and spice. We then added some new world hops to freshen it up into a Summery refreshing ale that is fitting for the Mornington Peninsula festive season," Blake said.
"We wish that our local community enjoy the beer as much as we enjoyed making it and hope that the collab becomes an annual event."