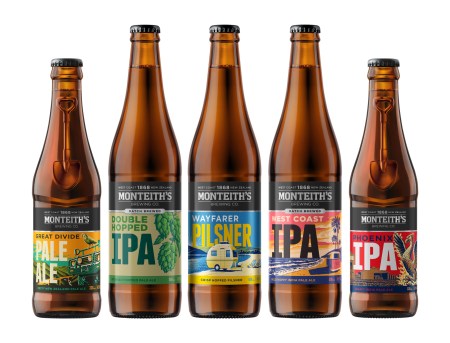 Monteith's Brewing Co from New Zealand is launching five craft beers from their batch-brew range in BWS stores this month ahead of the Australian Summer. These include the new Great Divide Pale Ale and the Phoenix IPA plus a limited edition range of three 500ml batch beers – the Wayfarer Pilsner, a West Coast IPA and a Double Hopped IPA.
The Monteith's Brewing Company has been proudly located in Greymouth since 1868, a town on the West Coast of New Zealand's South Island. Brewed for the right now, Monteith's has a range of refreshing and delicious craft beers in Australia. Check out the new line-up:
The Great Divide Pale Ale (4.5%) is a tip of the hat to the pioneers of the West Coast of NZ who made it through the Southern Alps. At 4.5%, this refreshing beer uses Galaxy hops for their tropical nature, and Mosaic, Citra and Amarillo for notes of deep citrus zest. A delicious sunny Saturday beer best enjoyed with a view of the ocean.
The Phoenix IPA (5%) was originally launched in New Zealand in 2018 to honour a century and a half of quality brewing on the country's West Coast. It's made with a fusion of American Simcoe, Chinook and Citra hops. Monteith's head brewer Rob Marshall describes the taste: "You experience the sensation of freshly cut grass complemented by the subtle flavour of passionfruit, with a touch of spice to round off this brew's unique nature".
Monteith's is also releasing three limited edition 500ml batch brews from their Brewer Series offering something different for Australian consumers:
The Wayfarer Pilsner ( 4.7%) is a light and refreshing crisp New Zealand Pilsner with thick hop bitterness and a smooth malty character brewed using Motueka hops. This Pilsner is perfect for after any leisure activity, especially those featuring sunshine, water and sand.
With a label reminiscent of the California coast, the West Coast IPA (6.2%) will be a winner with Aussies who are fans of a bold hoppy brew. Those who appreciate hop characters in their beer will enjoy the wonderful notes of citrus and tropical fruits from American hop varieties Simcoe and Mosaic.
Last but not least, the Double Hopped IPA (7.2%) is a bold IPA, with a concentrated malt flavour and sweetness. The warmth of this brew is boosted by the crisp high bitterness. Dry hopped with Cascade, this one delivers a big floral aroma.
So sit back, relax and enjoy some the new Monteith's batch brew range brewed for right now. These five new Monteith's brews are available for purchase in BWS and other liquor stores across Australia.
Great Divide Pale Ale & Phoenix IPA – 6PK 330ml bottle
RRP: $22 per 6PK.
Wayfarer Pilsner, West Coast IPA & Double Hopped IPA – 500ml Bottle
RRP: $7 per 500ml bottle.
For further information, contact your local sales rep below:
NSW: +61 409 046 525 | QLD: +61 447 600 126 | WA/SA: +61 447 600 119 | VIC: +61 447 600 671